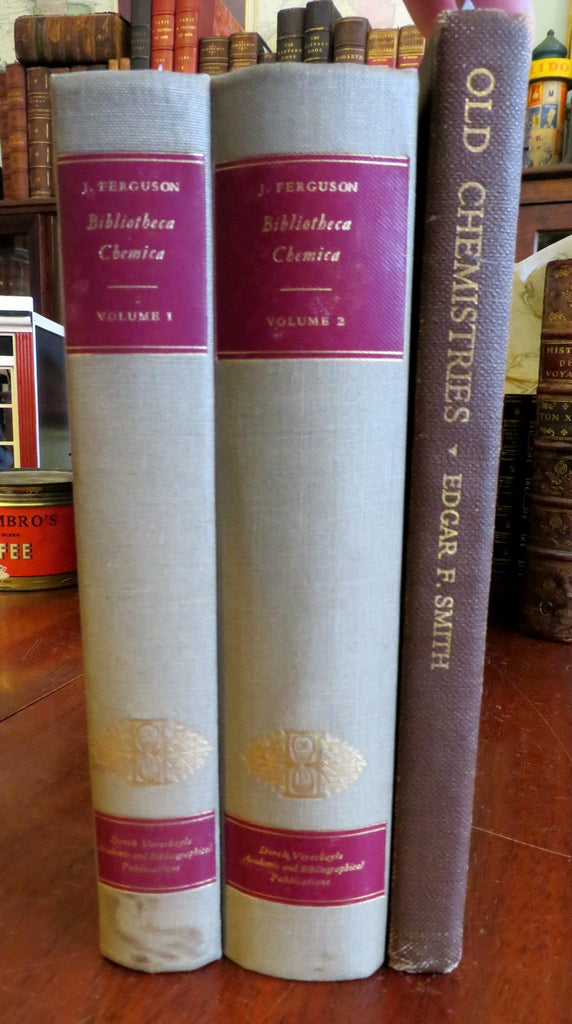 (Old Books, 20th Century Books, Reference Books, Alchemy, Chemistry, Pharmaceutics, Sciences, Bibliography).

Bibliotheca Chemica: A Bibliography of Books on Alchemy, Chemistry, and Pharmaceutics by J. Ferguson.
Published 1954, London by Derek Verschoyle, Academic and Bibliographical Publications LTD.
2 volumes, 487, 598, 89 pages. Text in English & French.

Publisher's cloth bindings, gilt title lettering on red leather labels.

Old Chemistries, by Edgar F. Smith.
Published 1927, New York by McGraw-Hill Book Company
89 pages. Text in English. Illustrated throughout.
Publisher's cloth bindings, gilt title lettering.
Lot is physically old and shows some signs of handling and time. Lot is not new or in "new" condition.

Bindings gently age worn, joints slightly scuffed, small stain at base of one book as seen, lot remains overall attractive as an object.

Text block paper is gently toned, internally still well preserved, tight, sound.
Still attractive on the shelf. Lot displays a pleasing and unique age patina and is in nice antiquarian condition, any age flaws easy to overlook or forgive. 
Please review photos for more detail and our best attempt to convey how this useful and essential lot of Chemistry reference books survives.
Books Measures c. 9 3/4" H x 6 3/4" W.
[B3174].