British & French North America Settlements 1755 London mag. Electricity w/ map
Brian DiMambro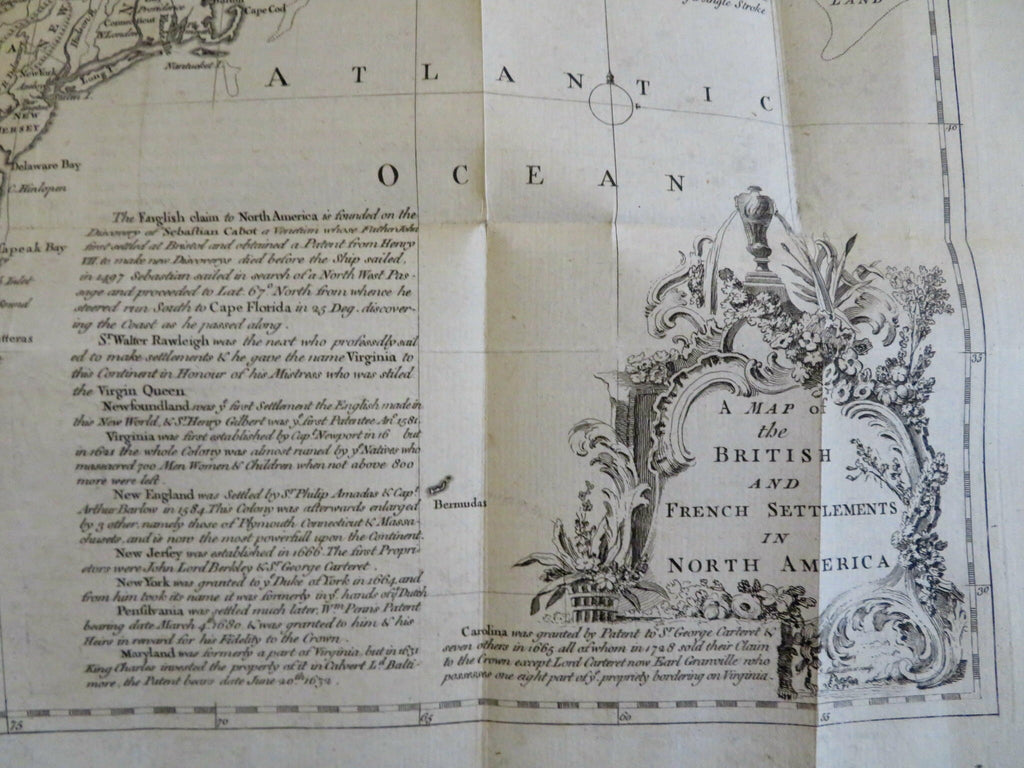 (Old Books, 18th Century Books, Periodicals, Magazines, Illustrated Magazines, News, Politics, Literature).

The Gentleman's Magazine.
Published July 1755, London (St. John's Gate) by E. Cave for Sylvanus Urban.
48 pages. Text in English. Front cover with fine large woodcut image of St. John's Gate, London. Includes large folding map of North American colonies.
An extensive descriptive key left of the ornate scroll & vegetation cartouche describes historical claims for the various colonies. Earl Granville's Property named, a vast stretch across North Carolina from the Atlantic over into Texas. The magazine contains text describing the map in greater detail as well as British military forces and the activities of the army & navy.
Wonderful assortment of topics is covered, please note the image with contents listed.
This issue complete unto itself as issued in the middle of the 18th century, extracted from a compilation volume.
Magazine is physically old and shows some signs of handling and time. Issue is not new or in "new" condition. We notice several pages with old (erasable) blue pencil outline done by a previous owner. 

Gently age worn, mostly light or inoffensive signs of handling and time but nothing severe or unsightly, magazine remains overall attractive as an object.

Paper is gently toned, still clean, tight, sound internally.
Item displays a pleasing and unique age patina and is in overall nice antiquarian condition, any age flaws which may be present seem easy to overlook or forgive. 
Please review photos for more detail showing how this 270+ year old paper item survives. The asking price reflects the condition based on our examination and 35+ years full time exposure to antiquarian books, maps and printed ephemera of all types and genres. Flaws seen and/ or described have been taken into account.
Book Measures c. 8 1/2" H x 5" W.
[B10482].