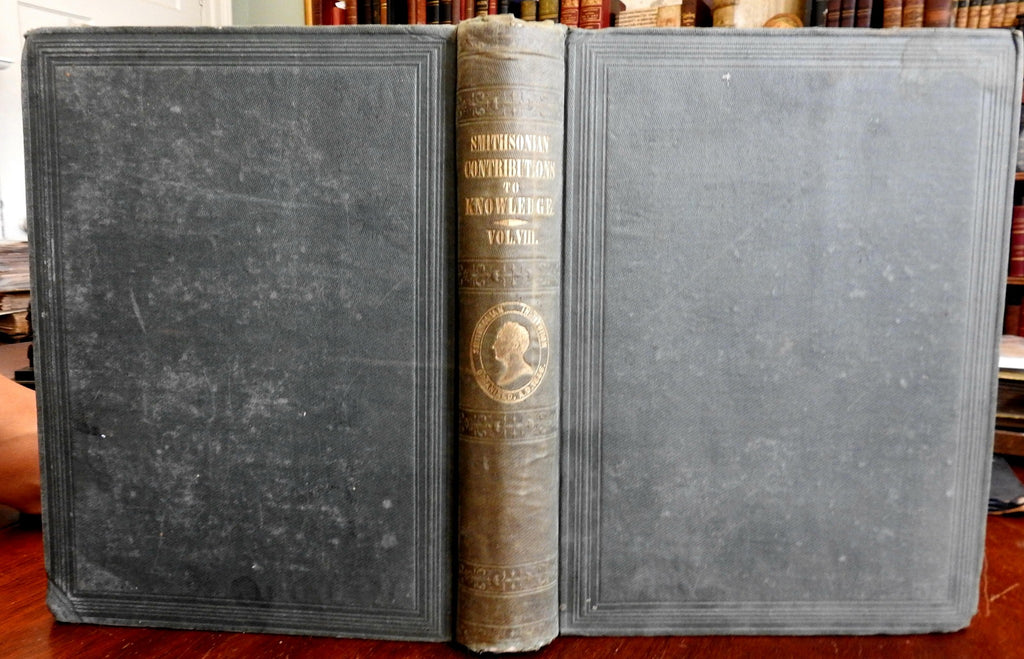 (Old Books, Americana, Smithsonian Institute, Collected Essays).

Smithsonian Contributions to Knowledge - Volume VIII.
Published 1856, Washington D.C. by the Smithsonian Institute.
168, 52 137, 118, 31 pages (five different articles, each by diff. author). Text in English. 

Publisher's cloth binding, gilt and embossed spine decorations, embossed ruled covers. Binding remains clean, tight, and sound.
Divided by individual contributions by various specialist in the field. Vol.VIII contains work pertaining to The Archaeology of the United States 172pp., Recent Secular Period of the Aurora Borealis 52pp, The Tangencies of Circles of Spheres and Researches 16pp, Chemical and Physiological, concerning certain North American Vertebrata 150pp, illustrated with 9 full page plates and 27 woodcuts.
Book remains well preserved and attractive on the shelf. It displays a pleasing and unique age patina and is in nice antiquarian condition, the age flaws easy to overlook or forgive. 
Please review photos for more detail and our best attempt to convey how this antique item survives.

Book Measures c. 13" H x 10" W.
[B528].