Compromise w/ South Sherman Farragut fleet Nast 1864 Harper's Civil War nwsppr.
Brian DiMambro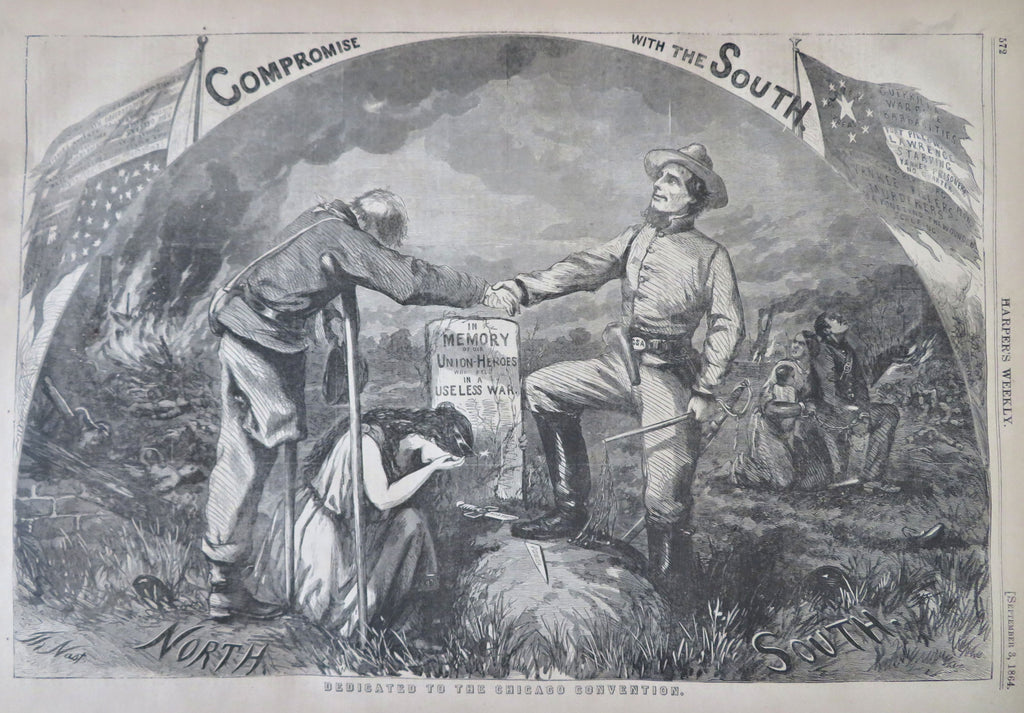 Harper's Weekly: A Journal of Civilization.

(Old Periodicals, 19th Century Newspapers, Americana, Harper's Weekly, Civil War, Illustrated Newspapers, William T. Sherman, War Council).

Issued September 3rd, 1864, New York, by Harper & Brothers.

An actual piece of American history issued during the Civil War. Filled with commentary and wood engraved images relating to that war and issued contemporary to the events.

Original mid-19th century weekly newspaper.  An actual, complete newspaper published at the date listed, not a modern re-issue.

During this period, this journal was a major, influential national publication which employed many of the top artists of the era.
Paper uniformly age toned as typical, some pages loose. Issue was once bound up in a volume and is now free-standing and complete unto itself as originally issued.
Nice looking, clean, well preserved example, pages loosened, any age flaws easy to overlook or forgive. Text on reverse of each page as always, images and maps from Harper's like this are often offered separately for display. 
Newspaper measures c. 16" H x 11" W.

Periodical will be shipped gently rolled in a sturdy 3" wide tube to ensure it arrives safely to you! Multiple issues purchased at the same time will be shipped flat.

[B11069].

The full front page is taken up with a print: "Gen. Sherman's Campaign--Council of War Held at Gen. Wood's Headquarters".
Certainly the best print in this issue is also one of the more famous by Thomas Nast. This print (see) shows a triumphant Confederate soldier shaking hands with a peg-legged Union veteran as what appears to be Lady Liberty wept over a grave of Union heroes from a "Useless War".  Titled "Compromise With the South" the cartoon blasted the anti-Civil War peace platform adopted by the Democrats. Facing Democrat George McClellan in that fall's election, Abraham Lincoln's Republican Party printed up millions of copies of Nast's cartoon and distributed them everywhere. Nast's popularity skyrocketed and this cartoon was credited with helping turn the tide in favor of Lincoln.
Other prints within include: "The Late Brigadier-General Daniel McCook" "Captain Francis De Gress" "General Sherman's Campaign--Capture of a Rebel Wagon Train by General M'Cook Near Fayetteville, Georgia" "The Late John Grigg, Esq." "Nassau, New Providence, the Principal Rendezvous of the Anglo-Confederate Blockade-Runners" "View of the Tent in Which the Democratic Convention is to be Held at Chicago" "Clement Vallandigham" "Hon. Fernando Wood".
The doublepage centerfold is a very nice view of: ""Farragut's Fleet Passing the Forts and Obstructions at the Entrance of Mobile Bay".
The back page has two cartoons: "Recruiting at Newbern, N.C." and "The Sensation Novel".