Emancipated Free Slaves Central Park NYC Civil War newspaper 1864 complete issue
Brian DiMambro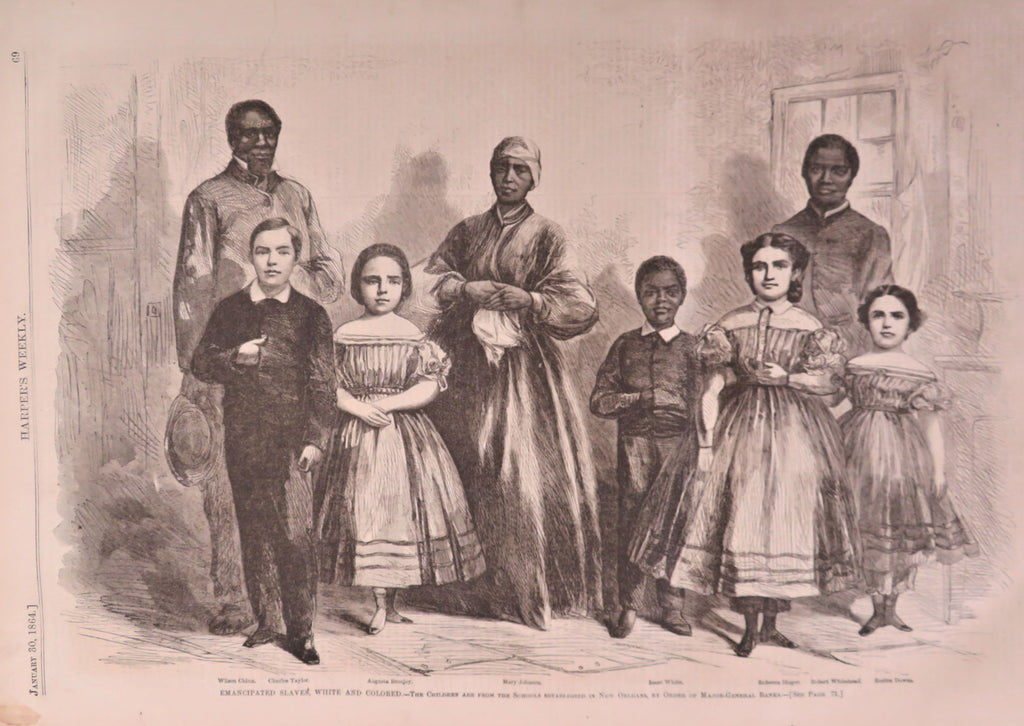 Harper's Weekly: A Journal of Civilization.

(Old Periodicals, 19th Century Newspapers, Americana, Harper's Weekly, Civil War, Illustrated Newspapers, Emancipated Slaves, Portraits, Picket Duty, Ice Skating).

Issued January 30th, 1864, New York, by Harper & Brothers.

An actual piece of American history issued during the Civil War. Filled with commentary and wood engraved images relating to that war and issued contemporary to the events. Numerous ads for hand guns and revolvers.
Nice double page wood engraving of Central Park, this example has long splitting along the bottom centerfold (just wrinkle, no loss, readily mendable if desired).

Original mid-19th century weekly newspaper.  An actual, complete newspaper published at the date listed, not a modern re-issue.

During this period, this journal was a major, influential national publication which employed many of the top artists of the era.
Paper uniformly age toned as typical, some pages loose. Issue was once bound up in a volume and is now free-standing and complete unto itself as originally issued.
Nice looking, clean, well preserved example, pages loosened, any age flaws easy to overlook or forgive. Text on reverse of each page as always, images and maps from Harper's like this are often offered separately for display. 
Newspaper measures c. 16" H x 11" W.

Periodical will be shipped gently rolled in a sturdy 3" wide tube to ensure it arrives safely to you! Multiple issues purchased at the same time will be shipped flat.

[B11047].

The most desired & notable print is likely the full page captioned: "Emancipated Slaves, White and Colored" showing one man with a brand on his forehead.
The front page shows the: "Ruins of the Church of the Compania, at Santiago, Chili, After the Conflagration". Inside has a full page: "Snowy Morning--On Picket" showing a Civil War soldier in the cold & snow. A very nice & displayable double page centerfold: "Central Park In Winter" shows 11 vignettes including a central image of people ice skating (see), done by Thomas Nast.
Two other pages include several views of ships of war including "The New English Six Hundred-Pounder Armstrong Gun" "Launch of Her Majesty's Screw Steamship 'Minotaur'..." "The United States Gun-Boat 'Eutaw' " "Longitudinal Section of Submarine Batter" and "Rebel Submarine Battery".
The back page has a political cartoon showing Jefferson Davis captioned: "Cold Comfort".  This issue also has the 2nd installment of "A White Hand and a Black Thumb", by Henry Spicer, originally published by Charles Dickens' in All the Year Round.