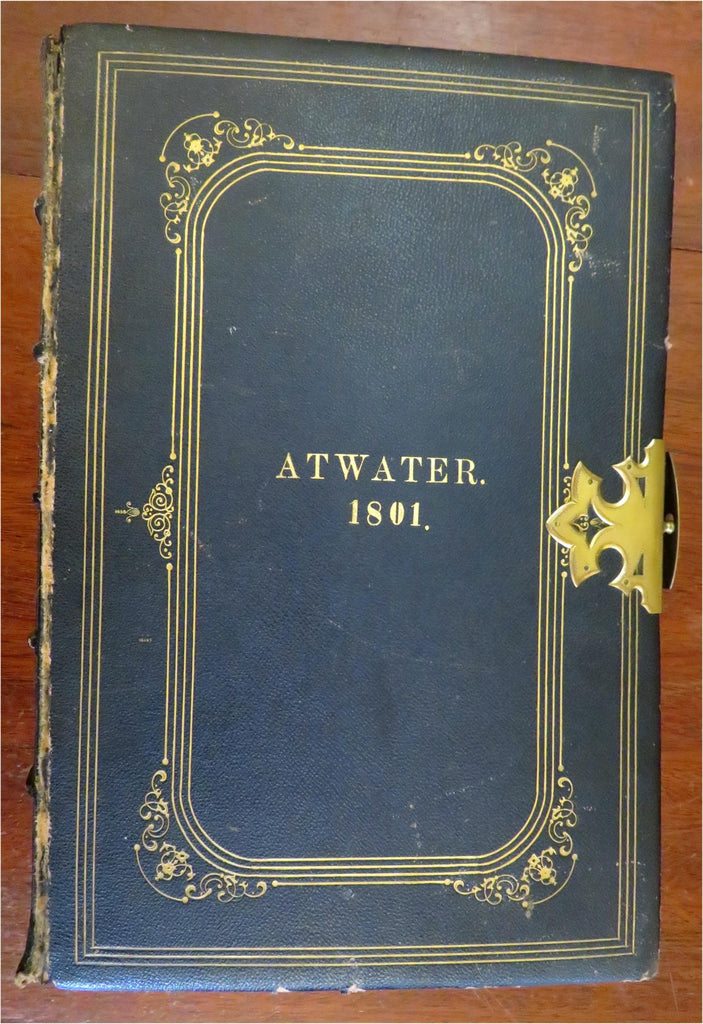 (Old Books, 19th Century Books, Leather Books, Religion, Christianity, Holy Bible, Old & New Testaments, Illustrated Books).

Holy Bible.
Published 1801, New York for William Durell.
868, 212 pages. Text in English. Profusely illustrated throughout with 15 engraved plates by Scoles. Subscriber's list at rear.
Rare and monumental early American folio bible with a nice assortment of 15 engraved plates.
19th century full morocco leather binding, raised bands, gilt compartment decorations & title lettering, gilt ruled covers, original owner's name in gilt on cover (Atwater, not seen on subscriber's list at rear), large brass clasp. 
A wonderful early American bible even with its condition issue of detached front cover (due to clasp being too tight for thickness of the book)), likely one of the most expensive items found in a book dealer's inventory at the time of publication.
Book is physically old and shows some signs of handling and time. Book is not new or in "new" condition.

Binding gently age worn but still appealing, leather rubbed but still supple, front cover detached, remains overall attractive as an object.

Text block paper is gently toned, normal overall toning, small minor spotting, one leaf with minor edge loss slightly affecting a few words, another leaf torn across, all others appear fine, internally still well preserved, tight, sound.
Still attractive on the shelf. Book displays a pleasing and unique age patina and is in nice antiquarian condition, any age flaws easy to overlook or forgive. 
Please review photos for more detail and our best attempt to convey how this rare book survives.
Book Measures c. 14" H x 9" W.
[B4350].