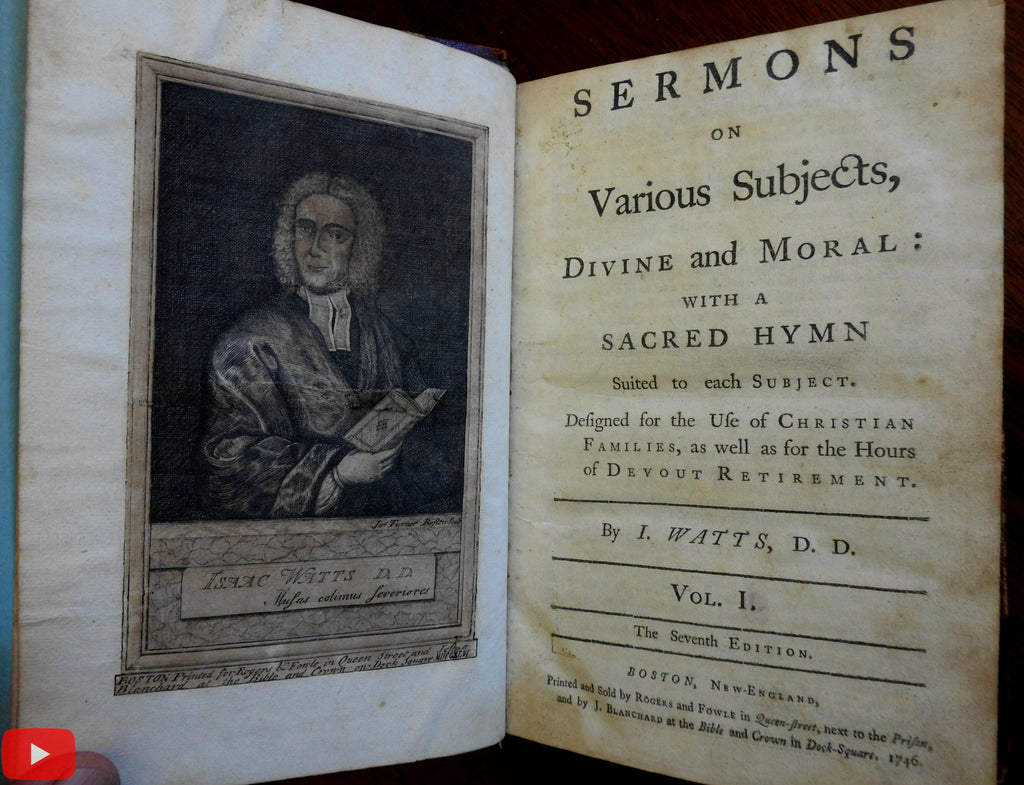 [Old Books, Religion, Christianity, Early American Religious imprints, Colonial New England, Leather Books].

Short video captures condition much better than words. Please watch prior to purchase to ensure a clear understanding of the book.

Sermons on Various Subjects, Divine and Moral: With a Sacred Hymn Suited to Each Subject. Designed for the Use of Christian Families, as Well as for the Hours of Devout Retirement, by I. Watts.
Published 1746, Boston by Rogers and Fowle.
736 pages. Two volumes bound as one. With what appears to be a trimmed down example of the frontis portrait by James Turner.
Text in English. Contains early owner's book plate and publisher's title list leaf at rear.

Old (likely c.1870-90's) 1/2 leather binding, smooth spine, gilt bands and compartment decorations, gilt title lettering.
Front joint split and cover essentially detached- held only by binding cord, but otherwise text block tight, and sound. Defective as typical for American imprints of this pre-1750 era. Lacks approx. first 8 leaves (16 pp. of text), book has title page and starts at pg. 17. Then complete until the end where approx. 4 text leaves are missing and two text leaves torn in half with loss. All clearly shown in video.
Rare book in any condition.

Interior contents display a uniform age patina, with scattered age spotting throughout. Any age flaws are easy to overlook or forgive.

Book measures: 8" H X 5 1/2" W.

[V2214].
Evans, American Imprints, 5880.
Stauffer, American Engravers, v. 1, pp. 275-7.