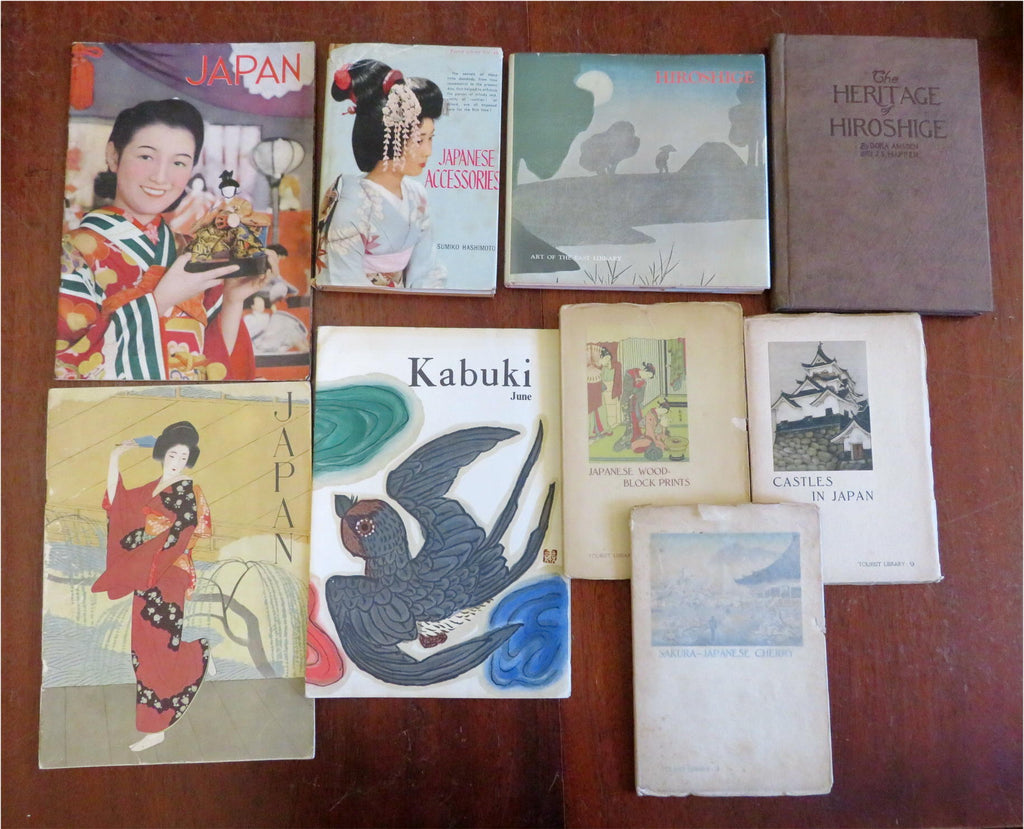 (Old Books, 20th Century Books, Reference Books, Book Lot, Book Set, Japan, Japanese Art, Culture, Travel, Tourism, History).
Publisher's cloth bindings with original dust jackets. Nice lot of 9 (nine) different mid- 20th century reference books relating to Japanese history, travel, and culture.
Two of the books have double page centerfold maps, one of which is a pictorial cartoon style.
Nice lot of nine (9) mid to late 20th century reference books relating to old & collectible books. Titles included in this lot are all clearly visible in pics, each work is a key or useful reference work worthy of owning if you have an interest in old children's books either as a collector or dealer.
Lot is used and shows some mostly minor light trivial signs of handling and time. Lot is not new or in "new" condition.

Bindings gently age worn, minor signs of handling but nothing offensive or severe, lot remains overall clean, well preserved and attractive.

Attractive on the shelf. Lot displays a pleasing and unique age patina and is in nice antiquarian condition, any age flaws easy to overlook or forgive. 
Lot is only offered/ sold as is, as seen, we will not break the lot or sell individual books. 
Please review photos for more detail showing how this lot survives. The asking price reflects the condition based on our examination and 35+ years full time exposure to antiquarian books and ephemera of all types. Flaws seen and described have been taken into account.
Largest Book Measures c. 10 1/4" H x 7 1/4" W.
Smallest Book Measures c. 7 1/2" H x 5 1/4" W.
[B4647].