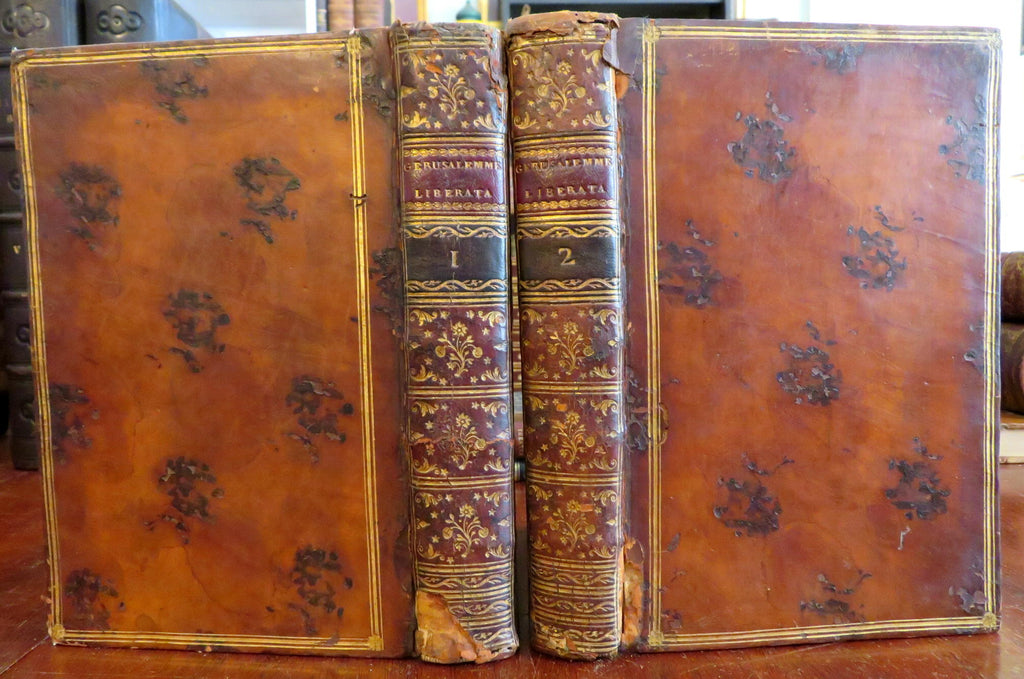 (Old Books, 18th Century Books, Leather Books, Poetry, Torquato Tasso, Jerusalem Delivered, Religion, Christianity, 1st Crusade).

La Gerusalemme Liberate, di Torquato Tasso.
Published 1771, Paris by Agostino Deladain, Pietro Durand & Gio. Claudio Molini.
2 volumes. 331, 340 pages. Text in Italian. Profusion of beautiful engraved plates and vignettes throughout. [Engraved plates: 2 frintisp., 2 titles & dedications, 20 plates, 20 large single page cherub vignette plates, 9 large vignettes, 14 small chapter tail pieces]. Apparently the first edition, as the plates have Italian captions, issued prior to French captions.
A splendid and important work, considered to be among the most beautiful engraved plate books of the 18th century.
Period full mottled calf leather bindings, smooth spines, gilt bands & compartment decorations, gilt title lettering on contrasting leather labels, gilt ruled covers, marbled end papers, all edges gilt.
Set is 250 years old and shows some signs of handling and time. Book is not new or in "new" condition.

Binding age worn, leather rubbed but still supple, joints scuffed and cracked with some areas of loss, small chipping to spines, all covers still well and firmly attached, remains overall attractive as an object.

Text block paper is gently toned, light scattered age spotting, internally still well preserved, tight, sound.
Still attractive on the shelf. Set displays a pleasing and unique age patina and is in overall nice antiquarian condition, any age flaws easy to overlook or forgive. 
Please review photos for more detail and our best attempt to convey how this fine 18th century set survives.
Books Measure c. 8 3/4" H x 6" W.
[B3717].
Brunet, Tresor de Livres Rares et Precieux, v. 6, p.33.