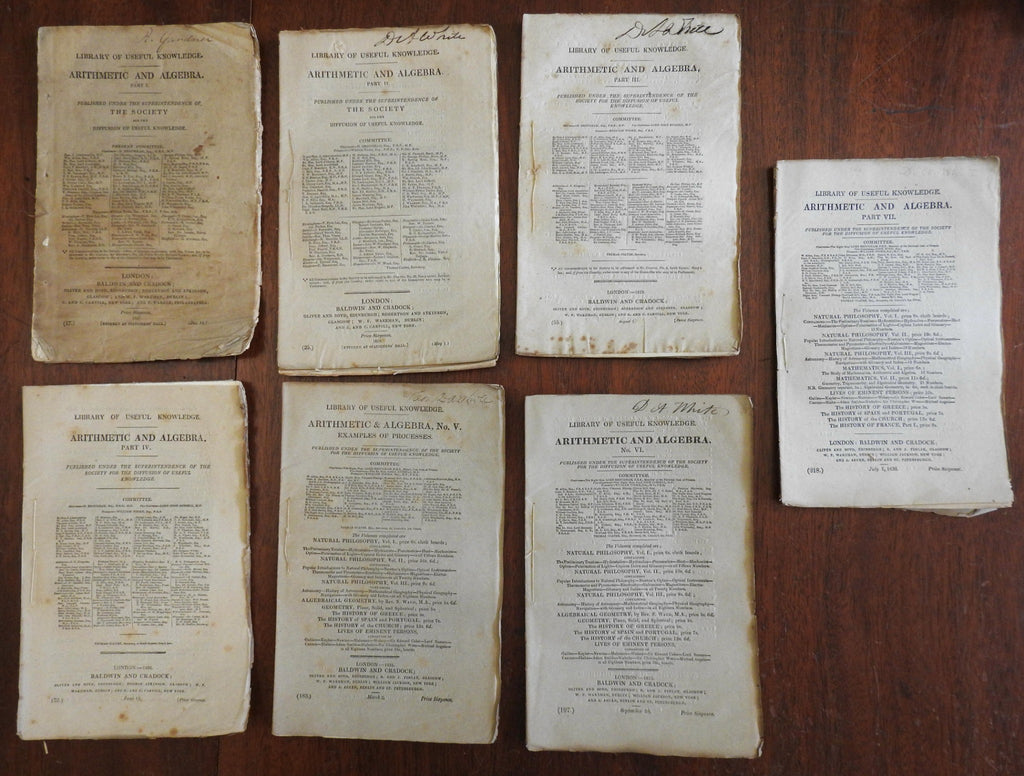 (Old Books, 19th Century Books, Library of Useful Knowledge, Mathematics, Arithmetic, Algebra).

Arithmetic And Algebra.
Published 1827, London by Baldwin & Craddock.
7 issues, each c. 32 pages plus wrappers. Text in English. Illustrated with small diagrams.
Publisher's paper wrappers. Scarce to rare to find a complete consecutive run as found here. Published by an organization whose purpose was the elevation of the common man through inexpensive and broad publishing.
Each pamphlet is over 150 years old and shows signs of handling and time. Lot is not new or in "new" condition.

Paper gently age worn, slight spotting or small age staining, remain overall clean and attractive.

Text block paper is gently toned, signs of handling, internally still well preserved, tight, sound with original binding string.
Still attractive on the shelf. The fragile pamphlet group displays a pleasing and unique age patina and is in nice antiquarian condition, any age flaws easy to overlook or forgive. 
Please review photos for more detail and our best attempt to convey how this antique lot survives.
Covers measures c. 9" H x 6" W.
[B3057].