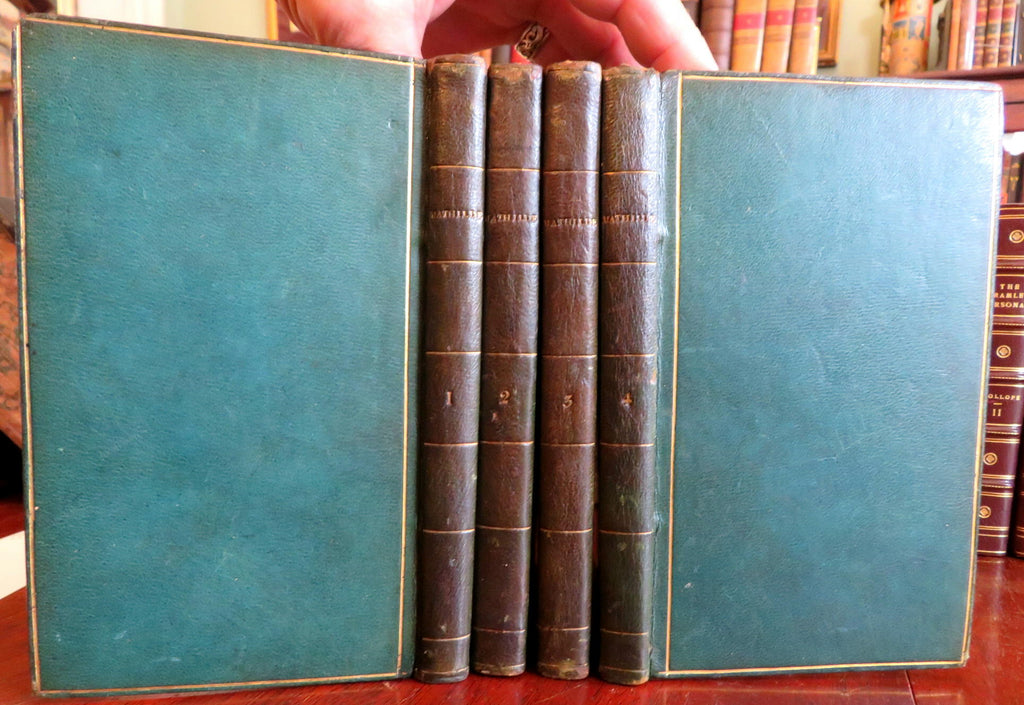 (Old Books, 19th Century Books, Leather Books, French Books, Crusades, Literature, Madame Cottin).

Mathilde; ou, Memoires Tires de L'Histoire des Croisades, by Madame Cottin.
Published 1809, London by Colburn.
4 volumes, each c. 225 pages. Text in French. 
Period early 19th century full grained leather bindings, smooth spines, gilt bands & title lettering, gilt ruled covers, all edges gilt.
Set is over 210 years old and shows some signs of handling and time. Set is not new or in "new" condition.

Bindings gently age worn, leather rubbed but still supple, joints slightly scuffed, set remains overall attractive as an object.

Text block paper is gently toned, light to moderate scattered age spotting, internally still well preserved, tight, sound.
Still attractive on the shelf. Set displays a pleasing and unique age patina and is in nice antiquarian condition, any age flaws easy to overlook or forgive. 
Please review photos for more detail and our best attempt to convey how this fine and scarce antique French set survives.
Books Measures c. 7 1/4" H x 4 1/2" W.
[B3583].