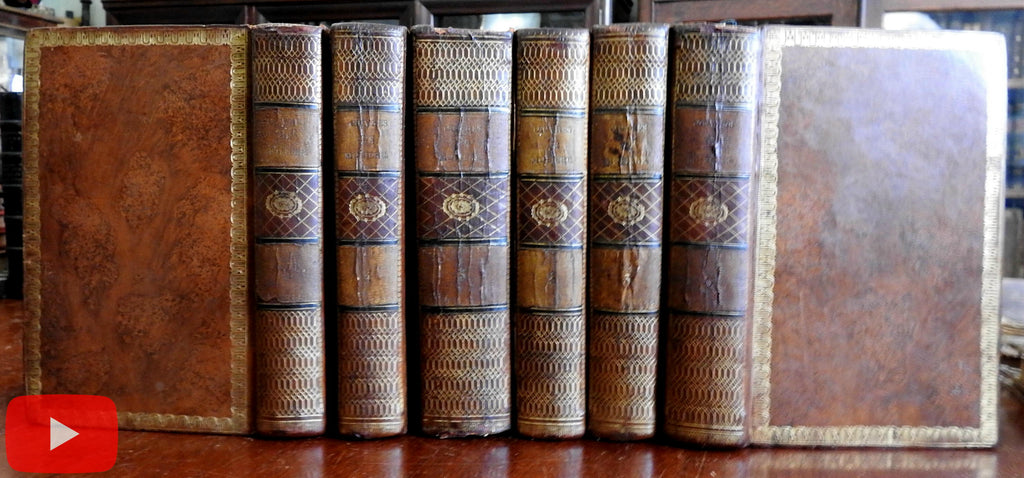 [Old Books, European Leather Bound Sets, French Decorative Books Bindings, French Comedy, Moliere]

Short video captures condition much better than words. Please watch prior to purchase to ensure a clear understanding of the book.

Oeuvres de Moliere avec Remarques Grammaticales.
Published 1804, Paris by La Compagnie des Libraires Associes.
6 volumes, each c. 500 pages. Text in French. Engraved frontis portrait protected by original tissue guards, each volume with three (or four) other fine engraved plates.
Splendid antiquarian set with fine shelf appearance despite the age wear.

Period full leather bindings, smooth spine, elaborate gilt compartment decorations, gilt title lettering, gilt ruled covers, board edges and turn-ins, marbled end papers.

Bindings remain clean, tight, and sound. Interior contents display a pleasing age patina, largely free of age spotting. Any age flaws are easy to overlook or forgive.

Books measure:  8 1/4" H X 5 1/4" W.
Set along the shelf measures: 7 1/2".

[V2326].