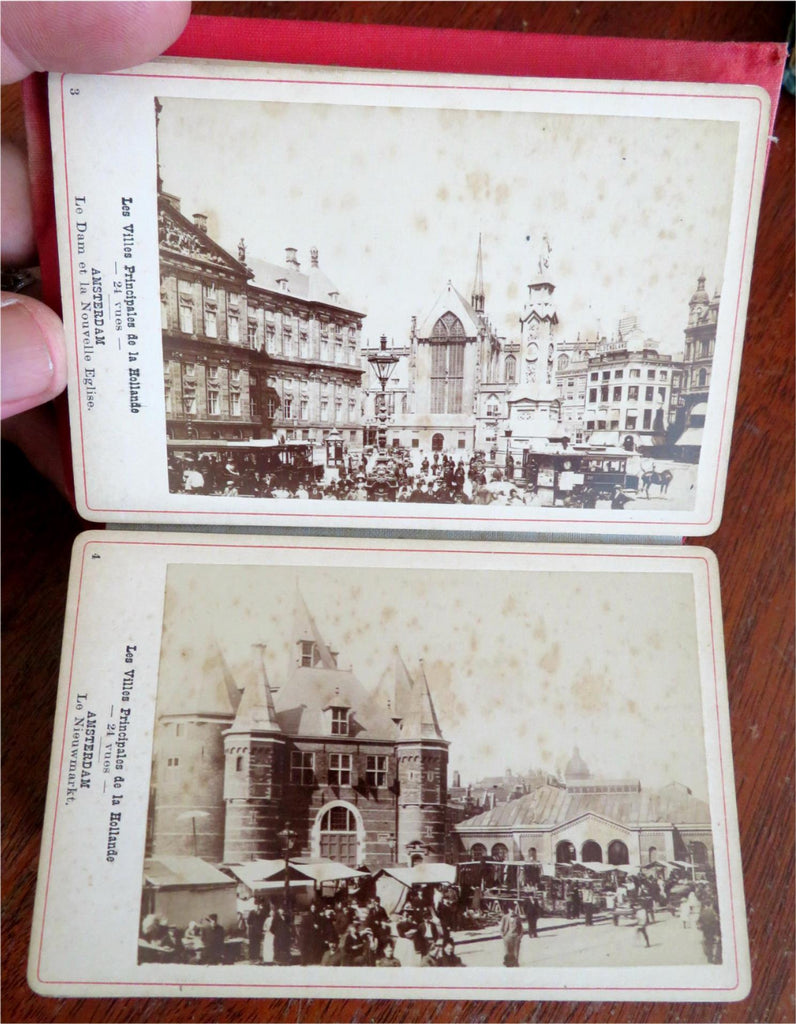 (Old Books, 19th Century Books, Travel, Tourism, Souvenir Albums, Illustrated Books, Netherlands, Holland, Amsterdam, Rotterdam. The Hague, Haarlem, Leiden, Dordrecht, Delft).

Les Villes Principales de la Hollande.
Published c. 1860-80's, J.M. Schatekamp, Amsterdam.
Tourist leporello (accordion) souvenir photo view book: 24 mounted albumen photos on heavy card stock, all views identified and captioned / lettered in French.
Scarce "deluxe" album. Most mounted photo books sold as tourist souvenirs contained approx. 12 views, this one has double that and was accordingly quite expensive in it's day. 
Splendid assortment of urban street views and scenes, approx. 19 with casual pedestrians/ locals in the photo.
Publisher's pictorial cloth binding, accordion style binding.
Album is physically old and shows some signs of handling and time. Album and photos are not new or in "new" condition.

Binding stained and age worn, various levels of typical photo age spotting to the views although rarely if ever severe or visually offensive, remains overall attractive as an object. The views are quite nice, magnification reveals many details lost to the naked eye.

The album displays a pleasing and unique age patina and is in overall nice antiquarian condition, any age flaws which may be present seem easy to overlook or forgive. 
Please review photos for more detail showing how this scarce unique 19th century item survives. The asking price reflects the condition based on our examination and 35+ years full time exposure to antiquarian books, maps and printed ephemera of all types and genres. Flaws seen and/ or described have been taken into account.
Book Measures c. 5 1/2" H x 3 1/2" W.
[B6052].