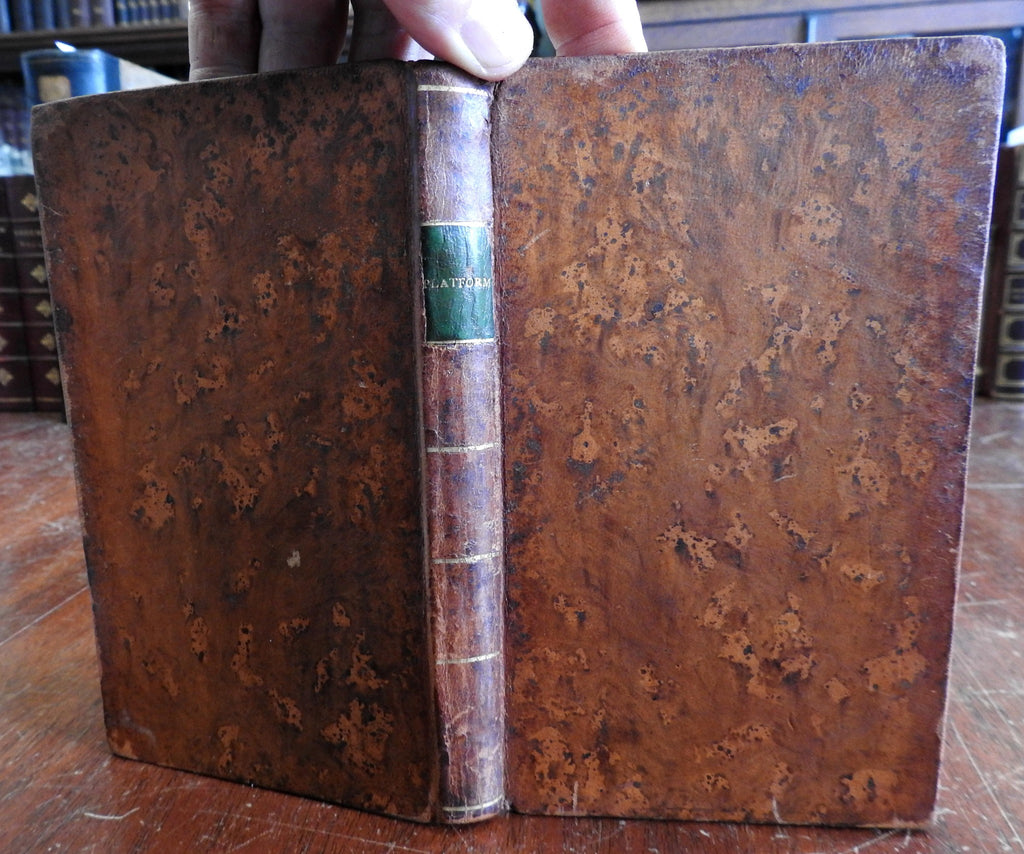 (Old Books, 19th Century Books, Americana, New England, Religion, Christianity, sammelband).

A Platform of Church Discipline, Gathered Out of the World of God, and Agreed Upon by the Elders and Messengers of the Churches Assembled in the Synod at Cambridge, In New England.
Published 1808, Boston by Belcher & Armstrong.
70 pages. Text in English.

The Original Constitutional Order and Faith of the New-England Churches.
Published 1812, Boston by A. Lyman & Co.
118 pages. Text in English.

A Confession of Faith, Owned and consented unto by the Elders and Messengers of the Churches Assembled at Boston in New-England, May 12th, 1680.
Published c. 1810.
36 pages. Text in English.
Period American (c. 1810-30 era) mottled full calf leather binding, smooth spine, gilt bands, gilt title lettering on contrasting green leather label. Early public lending library paper book plate to front paste down.
Despite three clearly variant title pages with differing text block paper and type faces, pagination is continuous through first two works and the book has been bound over 200 years. Scarce so well preserved.
Item is physically old and shows some light signs of handling and time. Item is not new or in "new" condition but is very well preserved.

Binding gently and lightly age worn, beautiful supple leather inmottled calf, hand bound and gilt stamped, remains very attractive as a 200 year old hand made object. Beautiful age patina.

Text block paper is toned, internally well preserved, some browning to some leaves as often seen in books of this era..
Still attractive on the shelf. Book is in very nice antiquarian condition (much nicer than typical), any age flaws easy to overlook or forgive. 
Please review photos for more detail and our best attempt to convey how this antique item survives.
Book Measures c. 7 1/4" H x 4 1/4" W.
[B2101].