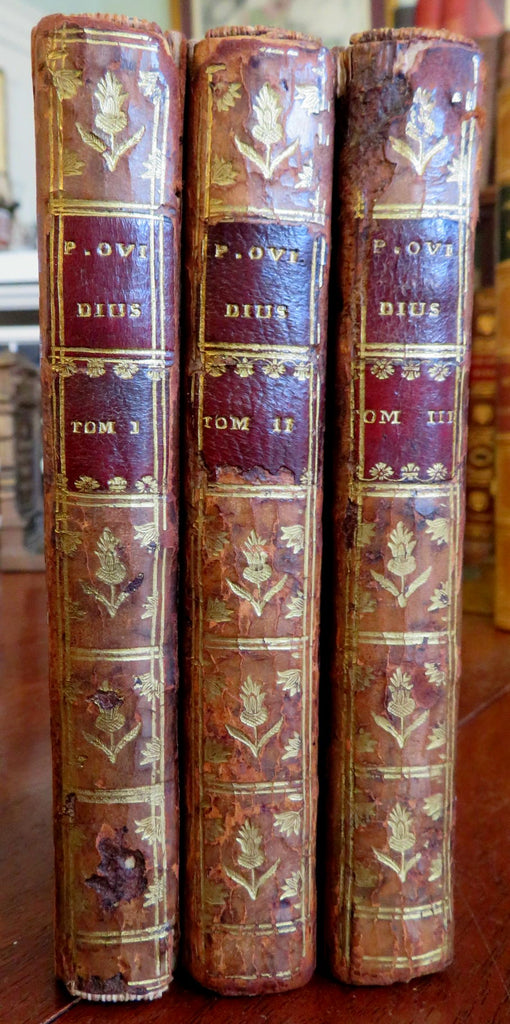 (Old Books, 18th Century Books, Leather Books, Poems, Latin Books, Ovid, Metamorphoses, Fastia, Erotica, Roman Poets).

P. Ovidii Nasonis: Opera quae Supersunt.
Published 1762, Paris by J. Barbou.
3 volumes, each c. 325 pages. Text in Latin. Engraved frontispiece in each volume by Longueil, large woodcut devices as chapter tails.
Period mid-18th century full mottled calf French leather bindings, smooth spines, gilt bands, compartment decorations and title lettering on contrasting red leather labels, covers outlined in triple gilt rules.
Set is physically old and shows some signs of handling and time. Set is not new or in "new" condition.

Bindings age worn, leather rubbed but still supple, joints cracked but all covers still well attached, some chipping at spine ends, remains overall attractive as a scarce mid-18th century set.

Text block paper is gently toned, light minor scattered age spotting, internally still well preserved, tight, sound.
Still attractive on the shelf. Set displays a pleasing and unique age patina and is in nice antiquarian condition, any age flaws easy to overlook or forgive. 
Please review photos for more detail.
Books Measure c. 6 1/4" H x 3 3/4" W.
[B3703].