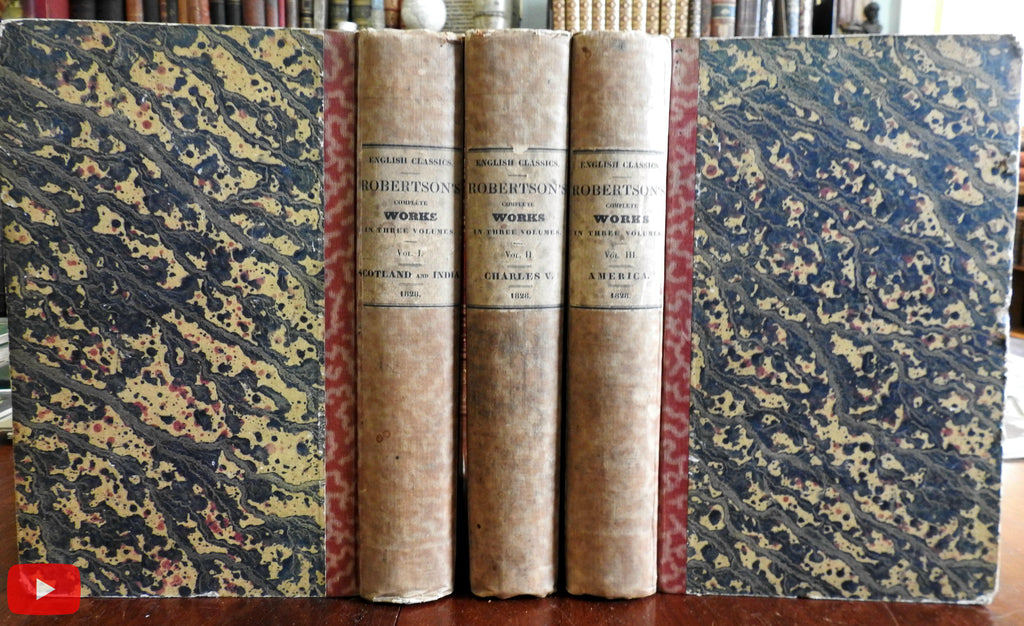 [Old Books, William Robertson, Historical Works, History of Scotland, Charles V].

Short video captures condition much better than words. Please watch prior to purchase to ensure a clear understanding of the set.

English Classics: Robertson's Complete Works in Three Volumes, by Wm. Robertson.
Published 1835, Paris by Baudry's European Library.
3 Volumes. Text in English. Small engraved portraits on title pages. Bibliographic info below.

Volume 1: History of Scotland and an Historical Disquisition Concerning Ancient India - 695 pages.
Volume 2: History of Charles V - 723 pages.
Volume 3: The History of America - 619 pages.

Marbled covers, spine paper title labels, deckled edges. Interior contents show light to moderate age spotting throughout. Bindings remain clean, tight, and sound.

Any age flaws are easy to overlook or forgive.

Books measure:  9 3/4" H X 6 1/4" W.
Set along the shelf measures: 5 1/4".

[V2277].