Union Generals Scott McClellan Meade Harper's Civil War 1861 complete newspaper
Brian DiMambro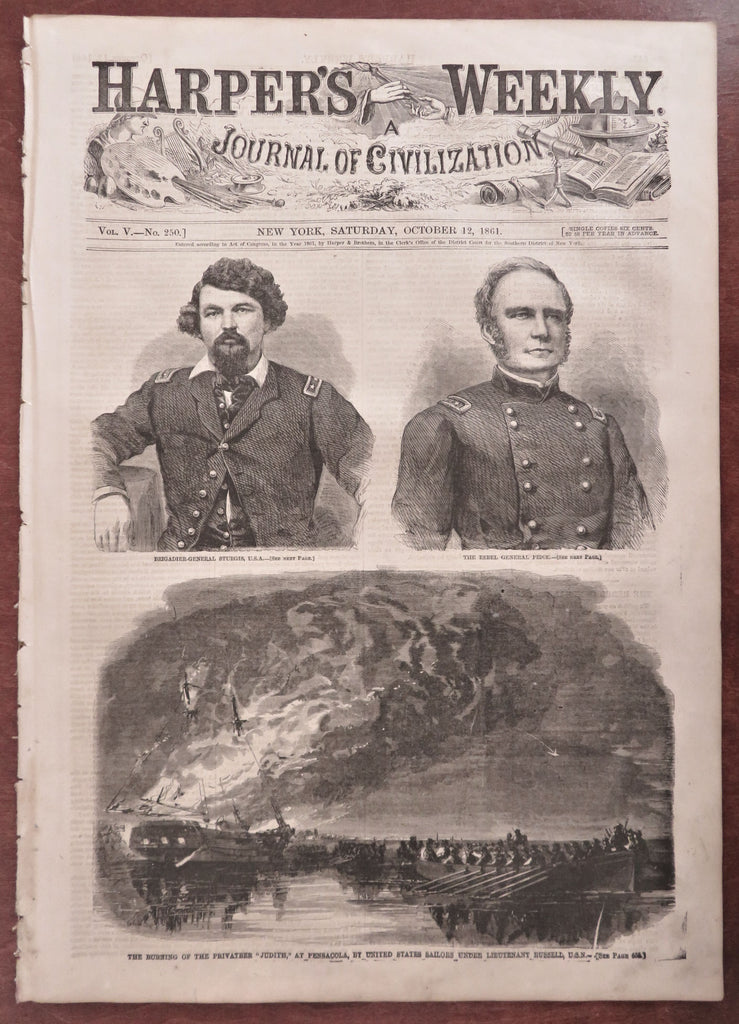 Harper's Weekly: A Journal of Civilization.

(Old Periodicals, 19th Century Newspapers, Americana, Harper's Weekly, Civil War, Illustrated Newspapers, Union Army, Generals, Winfield Scott, McClellan, Meade, Burnside, Butler).

Issued October 12th, 1861, New York, by Harper & Brothers.

An actual piece of American history issued during the Civil War. Filled with commentary and wood engraved images relating to that war and issued contemporary to the events.

Original mid-19th century weekly newspaper.  An actual, complete newspaper published at the date listed, not a modern re-issue.

During this period, this journal was a major, influential national publication which employed many of the top artists of the era.
Paper uniformly age toned as typical, some pages loose. Issue was once bound up in a volume and is now free-standing and complete unto itself as originally issued.
Nice looking, clean, well preserved example, pages loosened, any age flaws easy to overlook or forgive. Text on reverse of each page as always, images and maps from Harper's like this are often offered separately for display. 
Newspaper measures c. 16" H x 11" W.

Periodical will be shipped gently rolled in a sturdy 3" wide tube to ensure it arrives safely to you! Multiple issues purchased at the same time will be shipped flat.

[B11146].

The full front page is taken up with 3 prints: "Burning of the Privateer 'Judith' at Pensacola", "Brigadier-General Sturgis" and "The Rebel General Price".
Other prints inside include: "Major-General Fremont and Staff Inaugurating Camp Benton, at St. Louis, Before Starting for Lexington" "Charge of the Irish Regiment (Colonel Mulligan) Over the Breast-Works at Lexington, Missouri" "Burning the Pensacola Dry Dock, Off Fort Pickens, Florida" "Building Pontoons for Military Use on the Mississippi" "The  City of Maysville, Kentucky, Scene of the Great Union Barbecue" "The Gunboat New Era, Just Built at St. Louis, Missouri" "Camp of General Rosseau's Brigade, Near Muldraugh's Hill, Kentucky".
The double page centerfold is a great print titled: "Our Generals" showing all of them on horseback, and labeled beneath the print. Also prints labeled: "Section of the Earthworks Commanding the Approaches to Leesburg, Virginia, on the South" "Terrible Railway Accident on the Ohio and Mississippi Railroad" "Grand Cavalry & Artillery Review at Washington on September 14, 1861" and: "The Battle of Lexington, Missouri".
The back page has 2 political cartoons: "How To Deal With Female Traitors" and "Stop Thief!".