Vermont NH Mass. Autograph Album c. 1885-7 Mary Simmonds Stowe VT 100 signatures
Brian DiMambro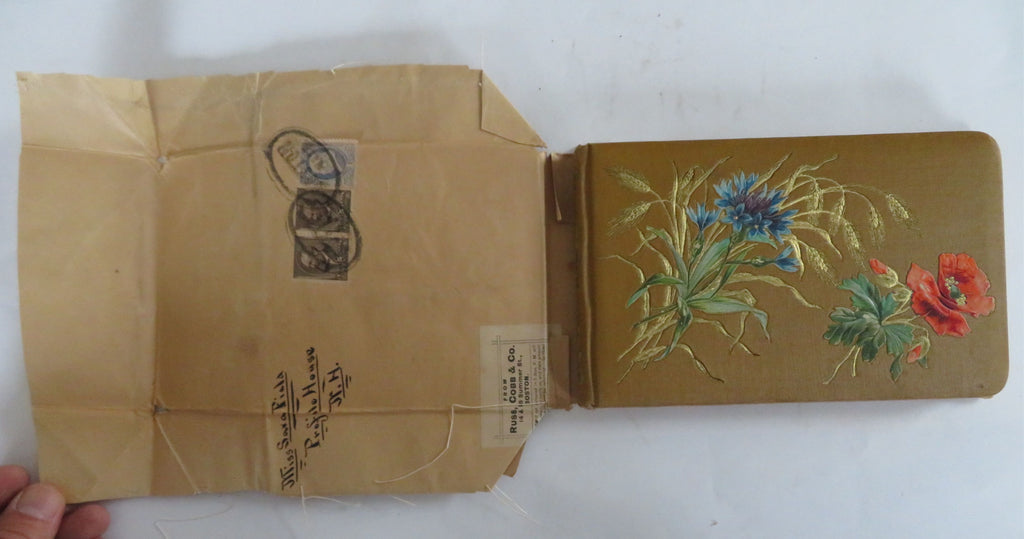 (Old Books, 19th Century Books, Novelty Books, Souvenirs Albums, Autograph Books, Americana).

Floral Album.
Published c. 1885-7, United States, likely Stowe Vermont area (owners mother signed the book and located herself in Stowe). Front cover faintly shows owner's name in pencil as "Mary Simmonds".
150 pages, 12 color lithographed flower pages including a full page color lithographed title page. Text in English. 
Many/most pages signed/autographed on both sides around 1885-7, over 100 different legible autographs. Majority of the locations of the autographs are Williamstown and Stowe VT, but also seen are the Profile House, NH in July 1886, and Brookline, NH, plus other towns in Vermont, etc.
Publisher's embossed color and gilt floral cloth boards, oblong format. Long ago wrapped in plain brown "waste" paper which is actually perhaps somehow related to Miss Sarah Field, Profile House in the White Mts. of New Hampshire.
Book is physically old and shows some signs of handling and time. Book is not new or in "new" condition.

Binding gently age worn, joints slightly scuffed, hinges cracked, covers very fresh, clean and bright, remains overall attractive as an object.

Text block paper is gently toned, light to moderate scattered age spotting, internally still well preserved, tight, sound.
Still attractive on the shelf. Book displays a pleasing and unique age patina and is in nice antiquarian condition, any age flaws easy to overlook or forgive. 
Please review photos for more detail showing how this antique book survives. The asking price reflects the condition based on our examination and 35+ years full time exposure to antiquarian books. Flaws seen and described have been taken into account.
Book Measures c. 5" H x 7 3/4"W.
[B11022].