Winslow Homer Knitting Circle Women cover 1861 Harper's Civil War newspaper
Brian DiMambro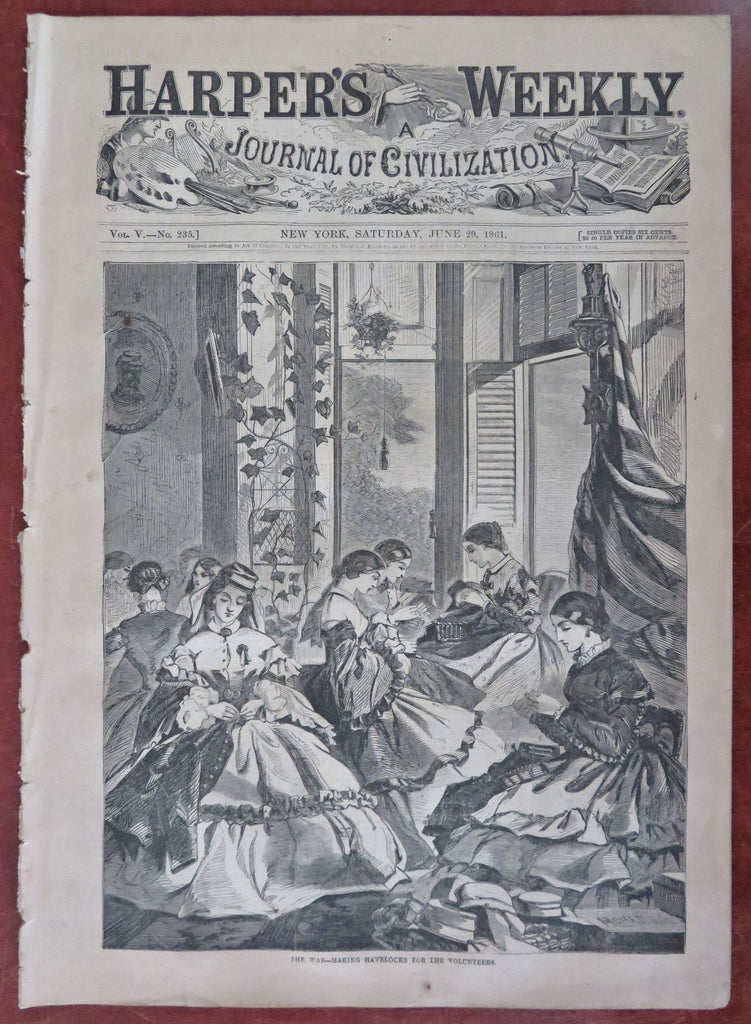 Harper's Weekly: A Journal of Civilization.

(Old Periodicals, 19th Century Newspapers, Americana, Harper's Weekly, Civil War, Illustrated Newspapers, Winslow Homer, Women's Knitting Circle, Fire Zouaves).

Issued June 29th, 1861, New York, by Harper & Brothers.

An actual piece of American history issued during the Civil War. Filled with commentary and wood engraved images relating to that war and issued contemporary to the events.

Original mid-19th century weekly newspaper.  An actual, complete newspaper published at the date listed, not a modern re-issue.

During this period, this journal was a major, influential national publication which employed many of the top artists of the era.
Paper uniformly age toned as typical, several pages have short closed bottom edge tears, some pages loose. Issue was once bound up in a volume and is now free-standing and complete unto itself as originally issued.
Nice looking, clean, well preserved example, pages loosened, any age flaws easy to overlook or forgive. Text on reverse of each page as always, images and maps from Harper's like this are often offered separately for display. 
Newspaper measures c. 16" H x 11" W.

Periodical will be shipped gently rolled in a sturdy 3" wide tube to ensure it arrives safely to you! Multiple issues purchased at the same time will be shipped flat.

[B11136].

The entire front page is taken up with a Winslow Homer print titled: "The War--Marking Havelocks For the Volunteers". Among the full page prints inside are: "Camp Slifer" which has 3 images including: "March of Troops" and "From Chambersburgh". Also: "The Battle of Great Bethel" "Charge of Duryee's Zouaves (Fifth Regiment New York Volunteers) at the Battle of Great Bethel" and: "Our Army Of The Potomac" which as 4 scenes.
Other smaller prints, including half page prints: "Leesburg Bridge on the Potomac Below Harper's Ferry, Lately Held by the Virginians" "Rebel Troops Arriving at & Departing From Martinsburg, Virginia" "Camp of First Regiment New York Volunteers, Colonel Allen, Near Fortress Monroe" "Camp of the Vermont Regiment, Newport News, with Stockade & Embankment", smaller prints including: "John Tyler's Residence, Hampton, Virginia" "Chesapeake Female College..." "Shot & Shell Piled Under the Walls of Fortress Monroe". Also: "Moat & Seward Face of Fortress Monroe" "Landing of the Scott Life-Guard at Newport News"; 3 prints on one page: "Landing of the 7th & 12th Regiments at Cairo - Battery on the Ohio Levee, Used for Ordering Steamers - Batteries on the Ohio Levee at Cairo", and "The Late Lieutenant Greble" "Rifle Pit for Sentinels" "The Privateer 'Savannah' Captured by the U.S. Brig 'Perry' ".
The back page has 3 political cartoons, one showing slaves labeled "Contraband of War". This issue also includes a serialized portion of "Great Expectations", by Charles Dickens.