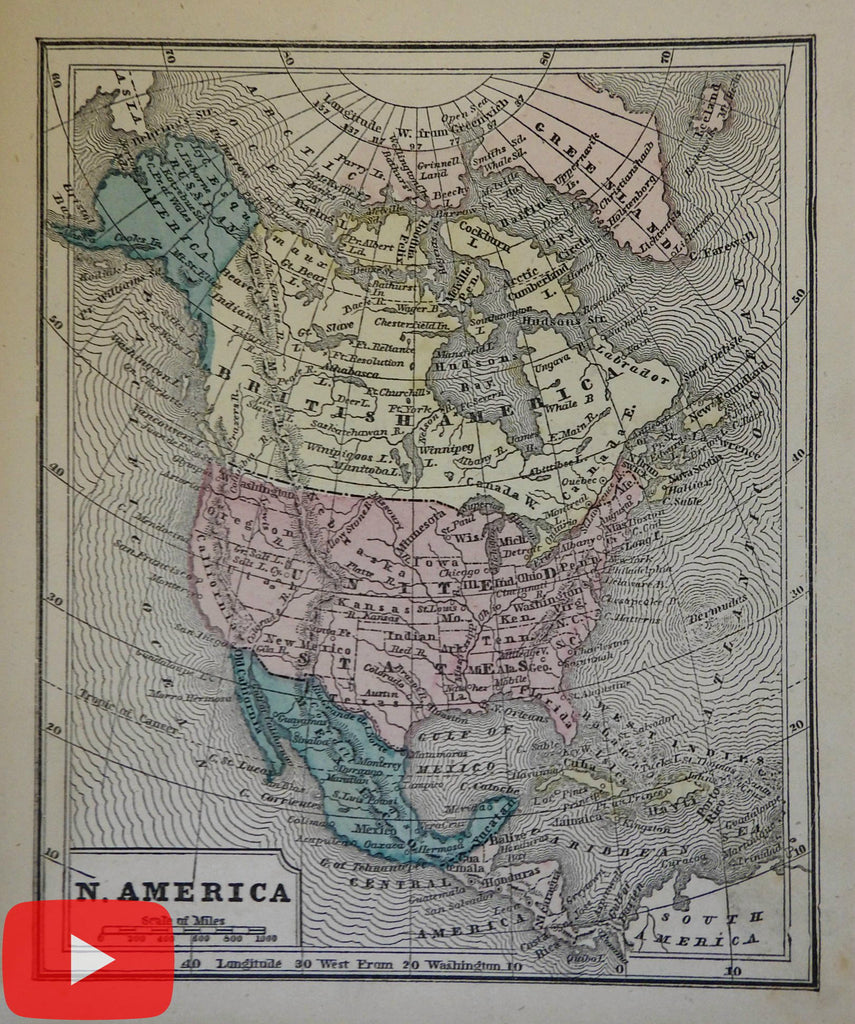 (Old Books, 19th Century Books, Atlases, Books with Maps, School Atlas).

Click here to view a short video presentation.

Short video captures condition much better than photos. Please watch prior to purchase to ensure a full understanding of the set.

The Diamond Atlas.
Published 1860, New York by Morse & Gaston.
Profusion of 52 cerographic (wax engraved) map plates, all with original hand color. American (vol. 1 of two, stands alone is complete, second volume focuses on world outside the Americas). Approx. 29 maps relate directly to North America (including one of Texas by itself and two nice territorial western maps, plus California, Florida, etc.), the remaining 14 maps of Mexico, South America and several thematic world maps.
Publisher's decorative cloth binding, gilt title lettering, embossed cover designs. Scarce to find complete and so well preserved in original publishers decorative cloth binding.
Atlas is physically old and shows some signs of handling and time. Book is not new or in "new" condition.

Binding gently age worn, joints slightly scuffed, text block slightly shaken, remains overall attractive as an object.

Text block paper is gently toned, light to moderate scattered small smudging or staining (mostly in blank areas), internally still well preserved, sound.
Still attractive on the shelf. Atlas displays a pleasing and unique age patina and is in nice antiquarian condition, any age flaws easy to overlook or forgive. 
Please review photos for more detail and our best attempt to convey how this 160 year old American atlas survives.
Book Measures c. 7 1/2" H x 6 1/2" W.
[B3294].