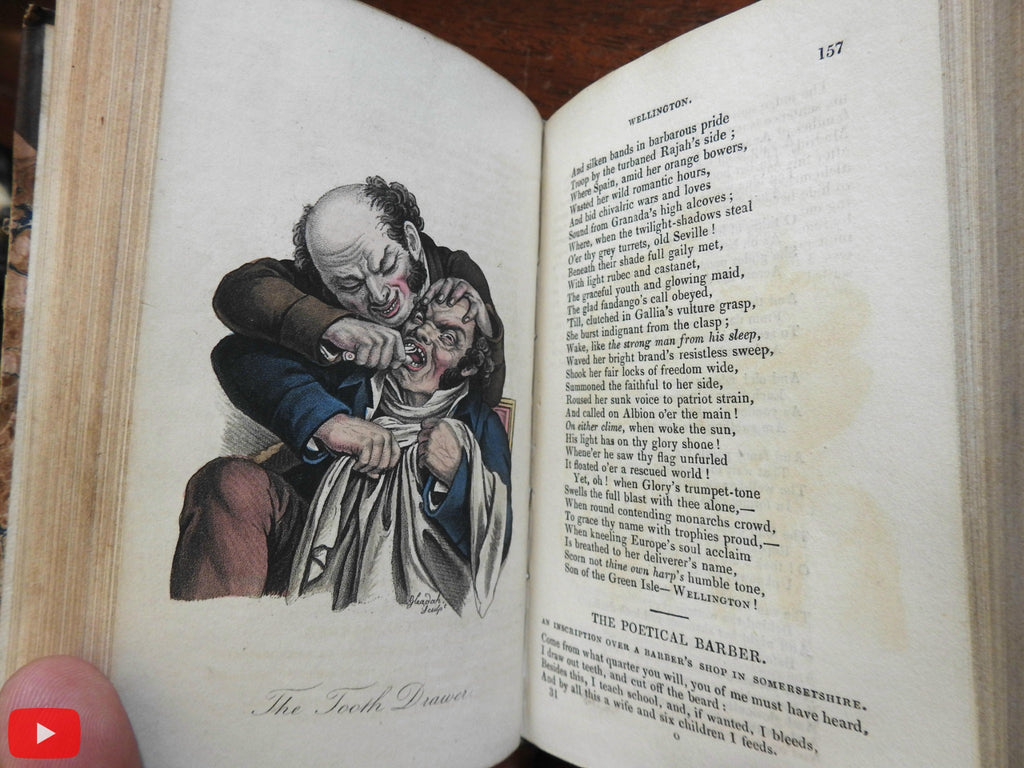 (Old Books, 19th Century Books, Leather Books, Illustrated Books, Dentists, 5 Senses, Ethnic Views).

Click here to view a short video presentation.

Short video captures condition much better than photos. Please watch prior to purchase to ensure a full understanding of the set.

The Pocket Album and Literary Scrap Book.
Published 1831, London by Joseph Robins.
420 pages. Text in English. Engraved frontis & half portrait. Illustrated throughout with 47 engraved plates: 3 are orig. hand color, 33 are full page steel engravings, and 11 are wood engraved vignettes. Includes the famous caricature image by Boilly of a dentist pulling a tooth, plus a lovely Greek ethnic costume print, plus a third color plate of  the five senses. Approx. 15 steel engravings are fine views relating to Chelsea and London.
Period 1/2 leather binding, smooth spine, gilt bands & title lettering with blind stamped patterns, marbled covers.
Book is physically old and shows some signs of handling and time. Item is not new or in "new" condition.

Binding gently age worn, leather rubbed but still supple, remains overall clean, attractive as an object.

Text block paper is gently toned, internally still well preserved, tight, clean, sound.
Still attractive on the shelf. Book displays a pleasing and unique age patina and is in nice antiquarian condition, any age flaws easy to overlook or forgive. 
Please review photos for more detail and our best attempt to convey how this rare antique book survives.
Book Measures c. 5 3/4" H x 3 3/4" W.
[B2621].