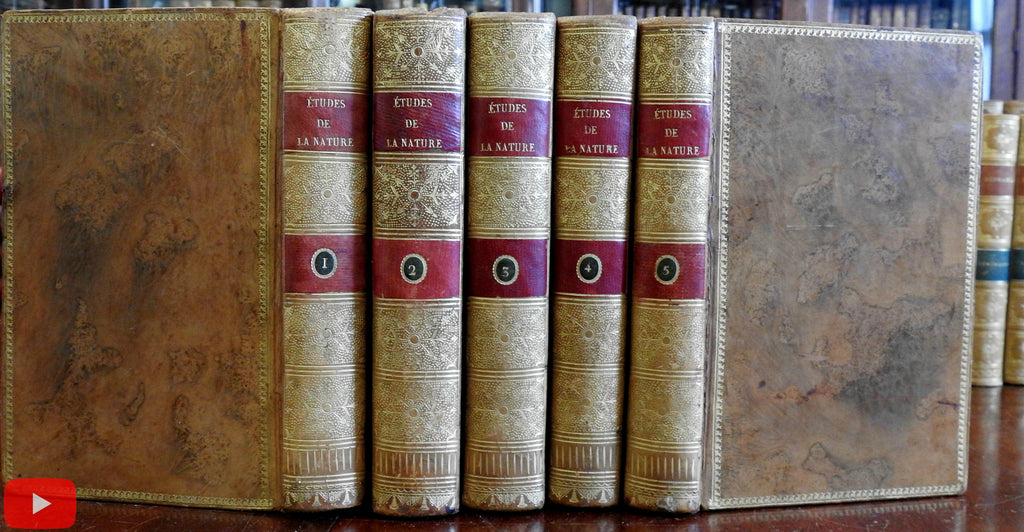 [Old Books, Natural History, Studies of Nature, Leather Sets, Decorative Leather Bindings, French Books].

Short video captures condition much better than words. Please watch prior to purchase to ensure a clear understanding of the set.

Etudes de la Nature, by Jacques Bernardin Henri de Saint Pierre.
Published 1804, Paris by Deterville.
5 volumes, 478, 479, 503, 440, 418 pages. Text in French. Early owners engraved armorial bookplates to pastedowns.
With 10 engravings, complete as issued. One is a folding hemisphere map showing ocean/ ice currents and movements.

Set is in gorgeous period mottled full calf leather bindings, smooth spines, elaborate gilt compartment decorations, gilt title lettering on contrasting red leather labels, gilt ruled covers, marbled end papers.
Bindings remain clean, tight, and sound. Any age flaws are easy to overlook or forgive.

Interior contents remain clean and bright, largely free of age spotting or foxing. A beautifully preserved set that retains a wonderful shelf appearance.
Very scarce, especially so fine and attractively bound.

Books measure:  8 1/4" H X 5 1/4" W.
Set along the shelf measures: 7".

[V2236].