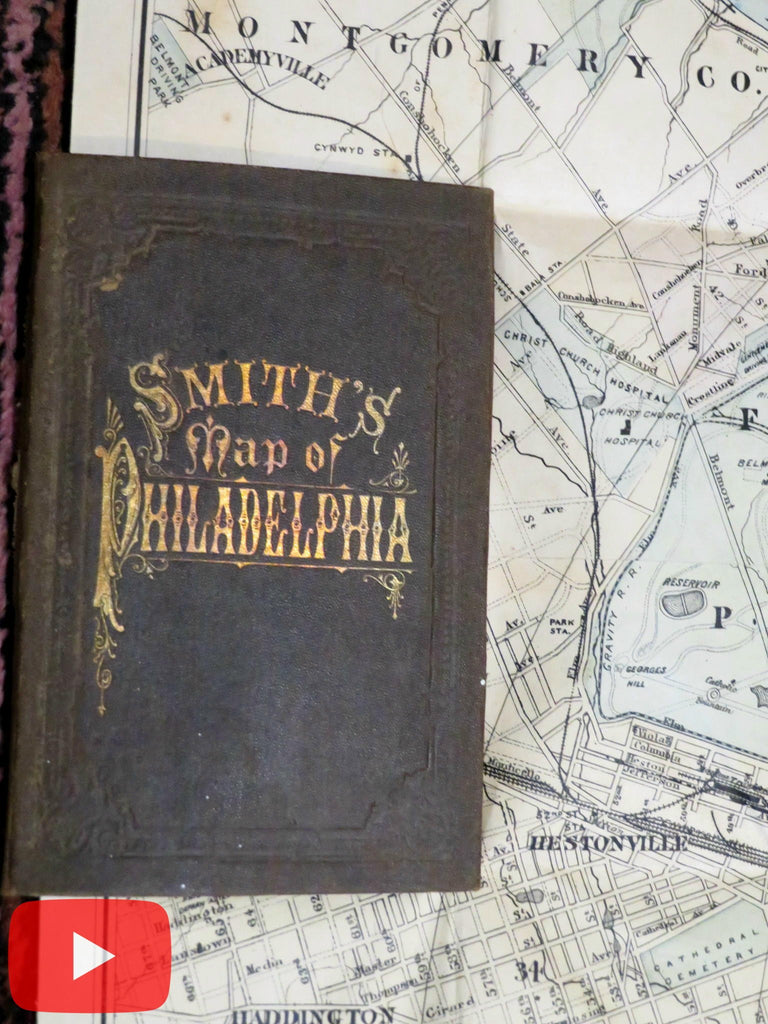 (Old Maps, North America, United States, Pennsylvania, Philadelphia, Detailed City Plan).

Click here to view a short video presentation.

Short video captures condition much better than photos. Please watch prior to purchase to ensure a full understanding of the set.

Smith's Map of Philadelphia.
Published 1891, Philadelphia by J.L. Smith.
Rare 19th century linen backed folding lithographed city plan with original full hand color. Text in English.
Publisher's cloth folding binding, gilt title lettering, embossed cover designs, original publisher's linen backing.
Below the title is a long table listing the highest elevation ever recorded of Delaware River high tide at points in each of the 31 city wards. 
At left is a small vignette of a man fishing above a street directory.
Map is 130 years old and shows some signs of handling and time. This map is not new or in "new" condition.

Covers a bit age worn, slightly scuffed with small spots of loss, still structurally sound, remains overall attractive as an object.

Map paper is gently toned, overall still clean, well preserved, sound and attractive in appearance
Map displays a pleasing and unique age patina and is in very nice antiquarian condition, any age flaws easy to overlook or forgive. 
Please review photos for more detail showing how this very uncommon/ scarce late 19th century map survives. The asking price reflects the condition based on our examination and 35+ years full time exposure to antiquarian maps, prints and books. Any small age flaws seen and described have been taken into account for price.
Map case measures c. 6 1/4" H x 4" W.

Map measures c. 40 7/8" H x 29 1/4" W.

[B3624].