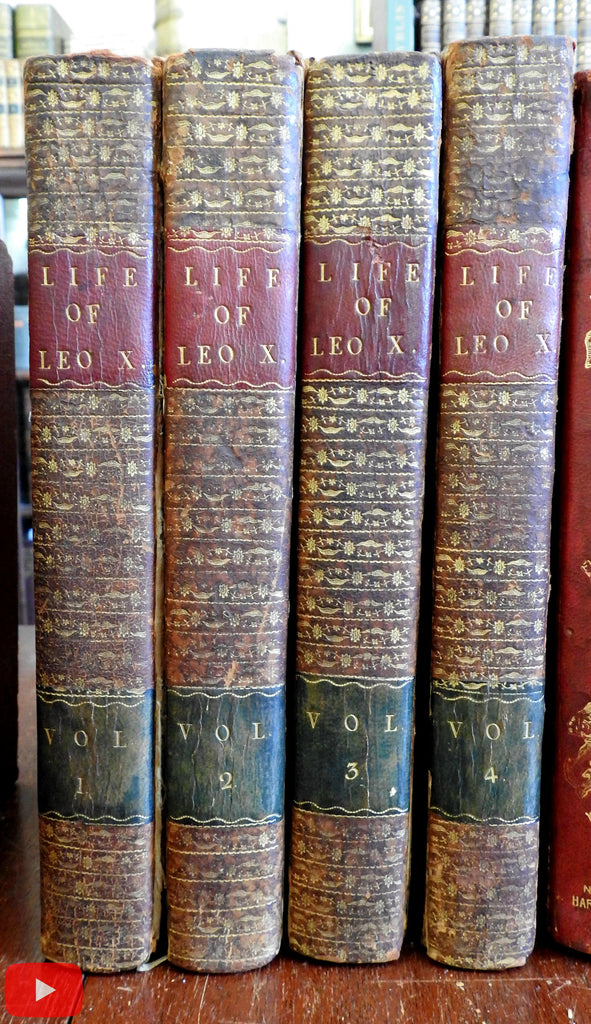 [Old Books, Leather Sets, Decorative Leather Bindings, Pope Leo X, Catholic Religion, Catholicism].

Short video captures condition much better than words. Please watch prior to purchase to ensure a clear understanding of the book.

The Life and Pontificate of Leo the Tenth, In Four Volumes, by William Roscoe.
Published 1805, Liverpool, by J. McCreery.
4 volumes, each c. 350 pages. Text in English. Engraved frontis portraits in each volume.

Period full speckled leather bindings, smooth spines, gilt bands, title and volume lettering on contrasting red and green leather labels, marbled end papers.
Front joints cracked, front cover of 1st volume detached, some chipping to spine ends, spine leather slightly dried and flaking, but otherwise bindings remain clean, tight, and sound. 

Interior contents display a pleasing age patina, with some mostly light age spotting throughout. Any age flaws are easy to overlook or forgive.
Set retains a lovely shelf appearance.

Books measure:  11" H X 9" W.
Set along the shelf measures: 6".

[V2220].