Alexander Selkirk Robinson Crusoe Travels Polynesia Americas 1809 Bauer 4 v set
Brian DiMambro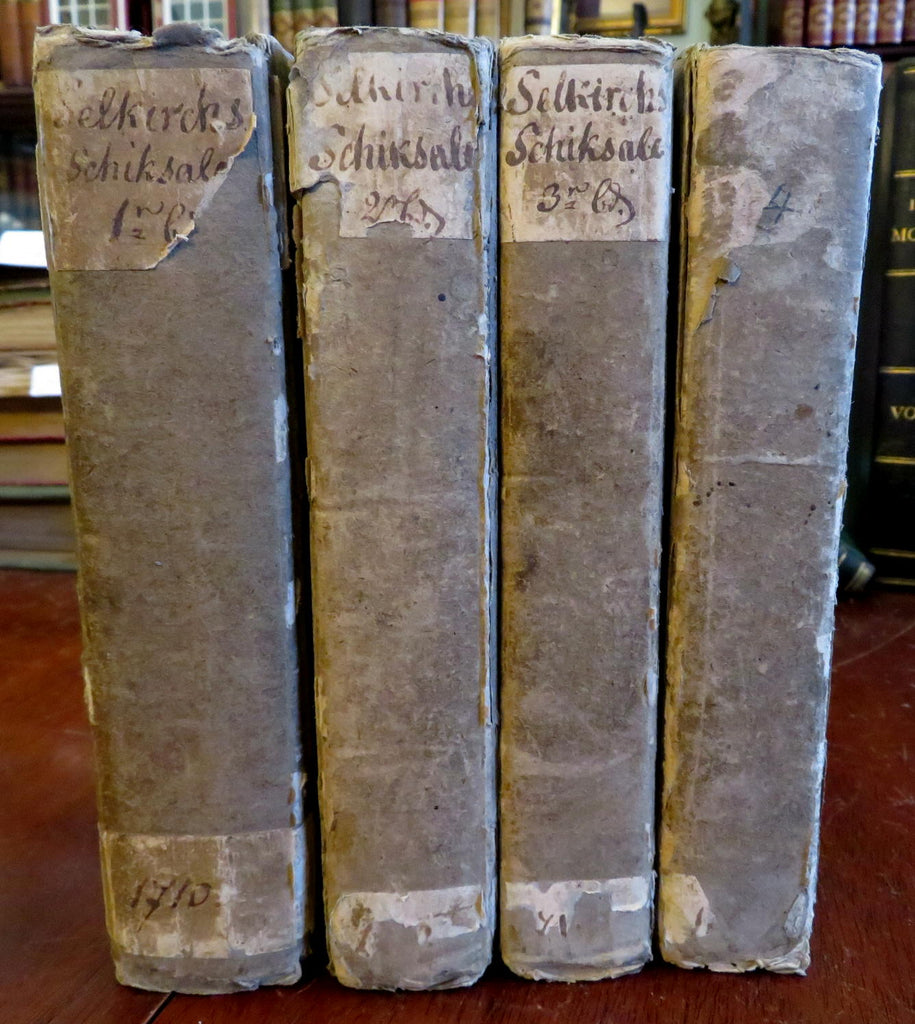 (Old Books, 19th Century Books, Travel, Exploration, Scottish sailor Alexander Selkirk, Americas, Polynesia, Castaway).

Alexander Selkirk's Sonderbare Schicksale zu Wasser und zu Lande by Johann Christian August Bauer.
Published 1806, 1809, 1810, Leipzig by Heinrich Graff.
4 volumes, each c. 350 pages. Text in German.
Four books, each complete unto itself, relating the story of the Scottish sailor Alexander Selkirk, upon whom DeFoe based his work Robinson Crusoe.
Publisher's paper covered boards, hand lettered spine title labels, deckled edges, completely untrimmed as issued.
Set is physically old and shows some signs of handling and time. Set is not new or in "new" condition.

Bindings gently age worn, mostly light or inoffensive signs of handling and time but nothing severe or unsightly, set remains overall attractive as an object.

Paper is gently toned, minor spotting, still clean, tight, sound internally.
Still attractive on the shelf. The set displays a pleasing and unique age patina and is in overall nice antiquarian condition, any age flaws which may be present seem easy to overlook or forgive. 
Please review photos for more detail showing how this set survives. The asking price reflects the condition based on our examination and 35+ years full time exposure to antiquarian books, maps and printed ephemera of all types and genres. Flaws seen and/ or described have been taken into account.
Books Measure c. 7 3/4" H x 5" W.
[B10153].