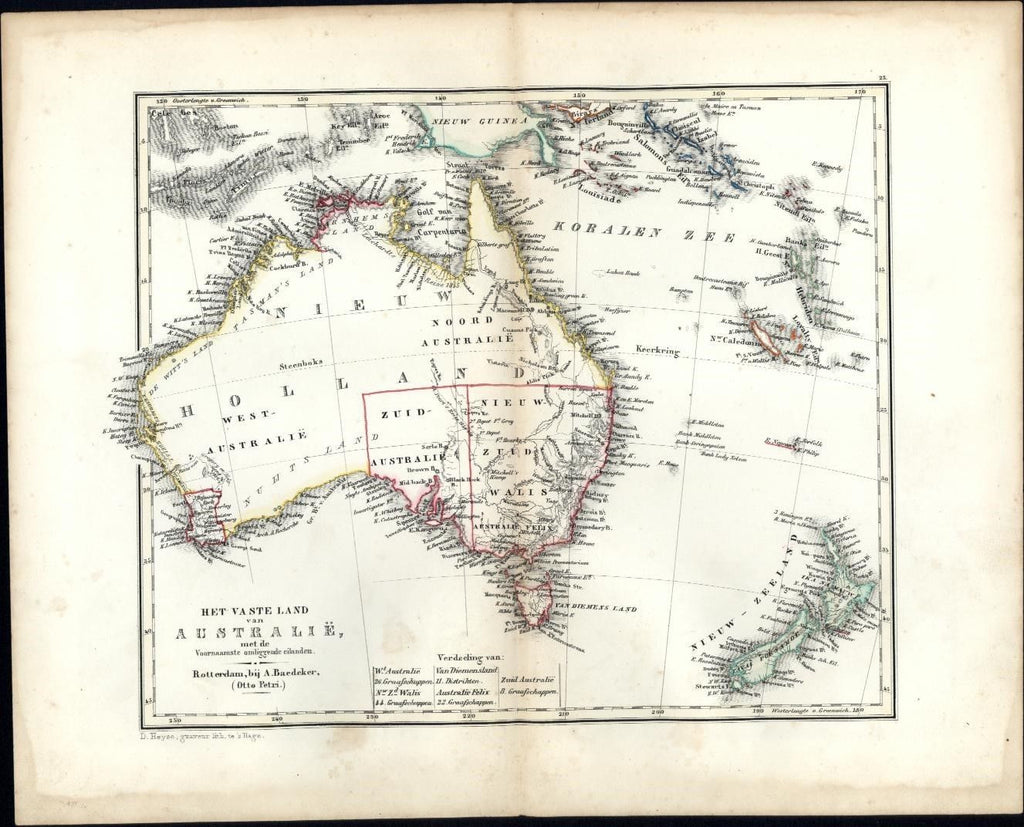 het vaste land van Australie met de voornamste omliggende eilenden
(Australia- New Zealand- Coral Sea Salomon islands- New Caledonia- New Hebrides- New Guinea southern coastline)
Issued c.1844 Rotterdam, Holland by Adolf Baedeker & Otto Petri

Engraved & lithographed map by D. Heyse, 's Hage, Netherlands (close to Rotterdam), with original outline hand color.

An early and elusive map of this island continent. With a very early internal outline.

Scarce mid-19th century Dutch produced map by the possible brother of Karl Baedeker( of the guide-book fame). This elusive and little know map was produced in Rotterdam, likely c. 1844 or earlier since Adolph left the city for Cologne Germany in that year

As originally issued long ago, an actual antique/ vintage printed sheet of paper, not a modern copy or reprint. The paper sheet could show various minor signs of age, but if we are offering it for sale, you can be 100% certain it is entirely worthy of ownership by even the most discerning collector or dealer.
A picture is worth a thousand words. The scan is a major part of the item description. Please examine it closely, as what you see is what we will send you.
[note: we grade conservatively and always seek to disclose any noteworthy flaws.].
Sheet remains well preserved, keeping in mind it is not modern or new, so minor flaws to paper unworthy of specific mention are sometimes to be expected. Some light age wear or surface spotting/ soiling, all of which is hopefully visible within the zoomable scan.
Paper and image remains overall clean & sound. Old maps & prints often display small minor repairs on the back, could have uneven blank margins, might have extraneous fold-lines or other small minor age flaws which do not detract from the visual appeal or value. Condition is carefully considered in arriving at our price.
Great old vintage antique map entirely worthy of hanging for display.
A cartographic depiction captured in a manner entirely unique to this era.

Centerfold as issued.
Sheet measures c. 13 1/4 "  x 10 1/2 " .
Printed area measures c. 10 1/2"  x 8 1/4 "
[R7250]