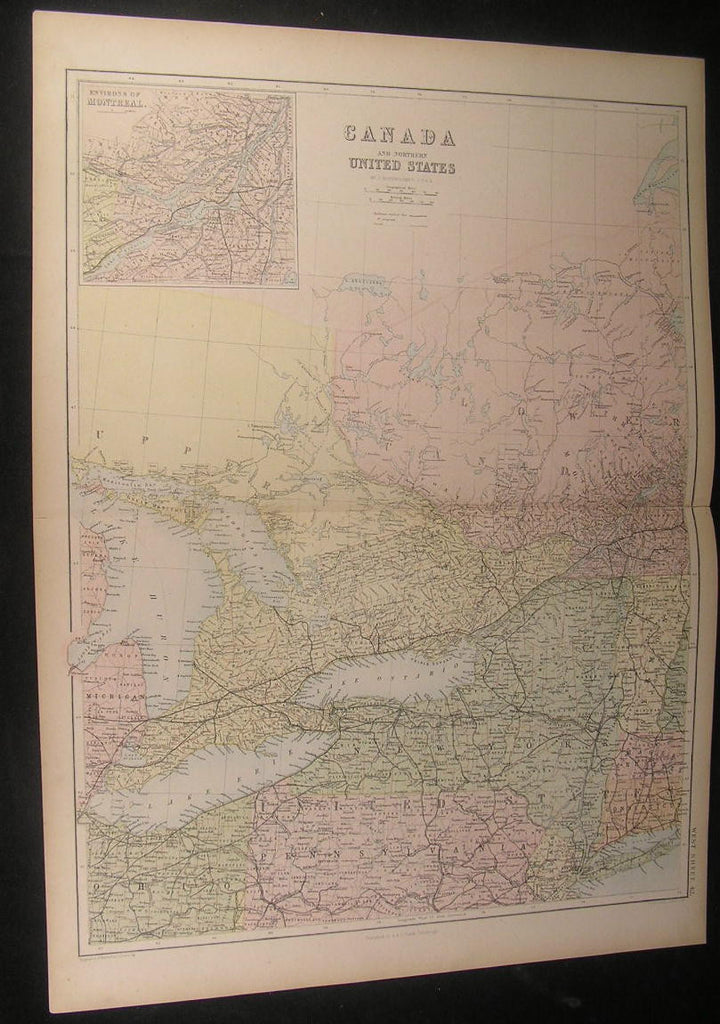 Canada and Northern United States

(Lake Huron, Ontario, Prince Edward Island, Great Mantoulin Island, Manhattan)

Issued 1865, Edinburgh, by A. & C.Black

Engraved & printed by J. Bartholomew

Fine and uncommon old engraved map with original hand color.
A picture is worth a thousand words. The photos are a major part of the item description. Please examine them closely, as what you see is what we will send you.

[note: we grade conservatively and always seek to disclose any noteworthy flaws.].

Map remains clean & well preserved. Some light age wear or surface spotting/ soiling which is visible within the scan, overall visually appealing

Paper and image remains overall clean & sound. Old maps & prints often display small minor repairs on the back, could have uneven blank margins, might have extraneous fold-lines or other small minor age flaws which do not detract from the visual appeal or value. Condition is carefully considered in arriving at our price.

Great antique map entirely worthy of hanging for display.

A depiction captured in a manner entirely unique to this era.
Sheet measures c.  24 1/4" H x  17 5/8" W.
Printed area measures c. 21 1/2" H x  16 1/4" W

Tooleys Dictionary of Mapmakers , v. 1, p. 91*
[R1856]