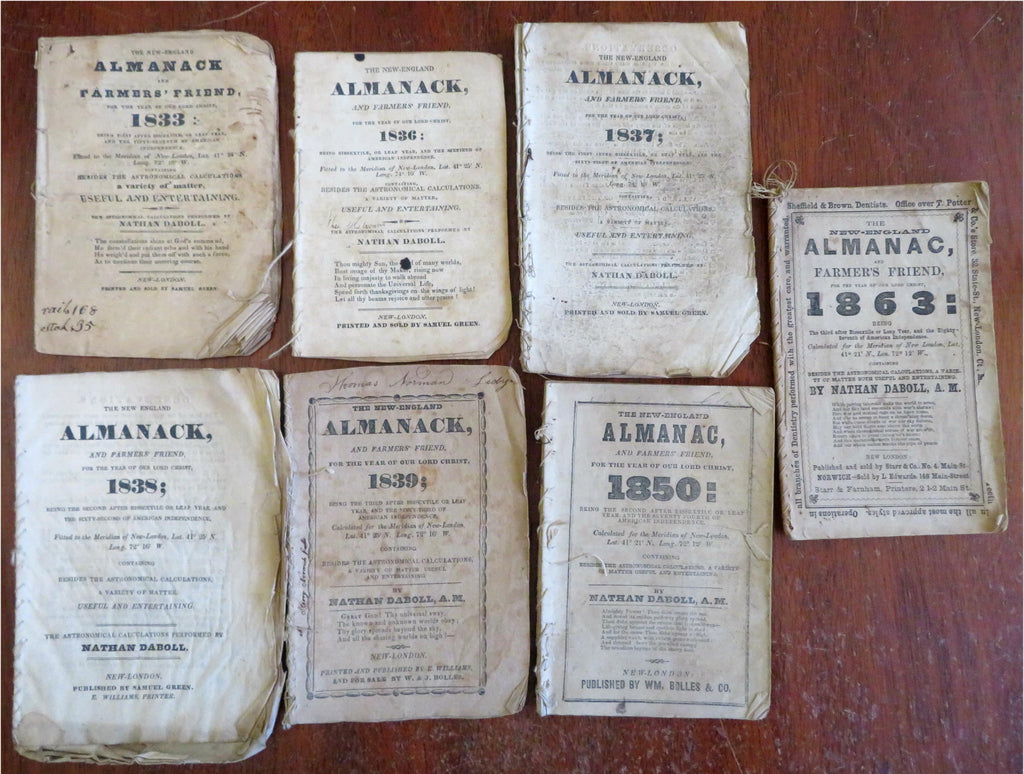 (Old Periodicals, 19th Century Almanacs, Americana, New England, Agriculture, Calendar).

The New England Almanack & Farmer's Friend.
Published yearly, New London, Connecticut by Samuel Green.
7 issues, each c. 28 pages. Text in English.
Publisher's paper wrappers, all but one bindings with early hand sewn thread spines. Issues included in this lot: 1833, 1836, 1837, 1838, 1839, 1850 & 1863.
Fascinating range of topics is covered within, including recipes, herbal remedies and cures, home tips, etc.
Item is over 150 years old and shows some signs of handling and time. Lot is not new or in "new" condition.

Paper covers age worn from use and consultation, remains overall clean and attractive as a fragile survival.

Text block paper is toned, signs of handling, small scattered spotting and staining, couple well damp stained, internally still tight and sound.
Still attractive on the shelf. The scarce almanacs display pleasing and unique age patina and are in nice antiquarian condition, any age flaws easy to overlook or forgive. 
Please review photos for more detail and our best attempt to convey how these antique booklets survives.
Covers measures c. 7" H x 5" W.
[B5142].