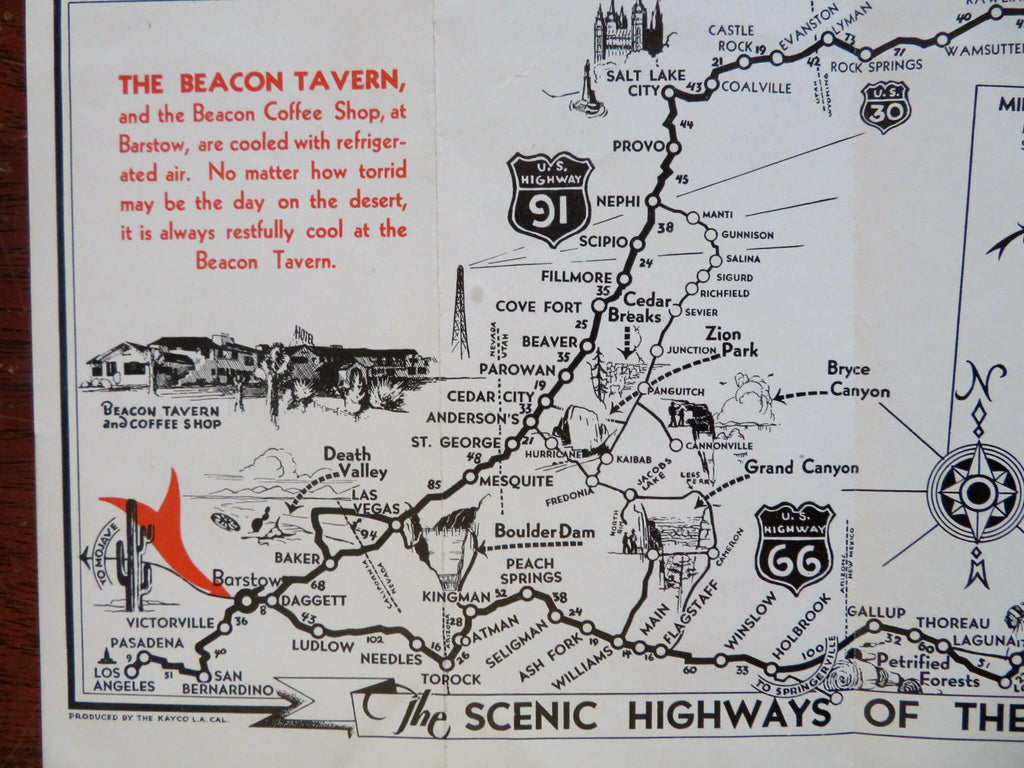 (Americana, Travel, Tourism, American Southwest, Highway 91, Route 66, Cartoon Pictorial Maps, Beacon Tavern, Utah, Nevada, Las Vegas, California, Arizona, New Mexico, Texas, Hoover Dam, Death Valley).

Free Map of Highway 91.
Published c. 1940,   Los Angeles, California by Kayco for Mairatti Hotel Co.
Folding promotional hand brochure/ map, issued by a local business and scarce thus. Text in English. 
Unfolds to a small but detailed and charming b&w cartoon pictorial map. Locations on the map include Las Vegas, Los Angeles, Amarillo Texas, Salt Lake City Utah, and Cheyenne, Wyo., Grand Canyon, Bryce Canyon, Zion Park and Boulder Dam.
Publisher's pictorial paper wrappers, an oblong sheet multi-folded into 4 panels printed on both sides.
Item is old and shows some signs of handling and time. Item is not new or in "new" condition.

Paper covers age worn, slight rubbing, remains overall clean and attractive as a fragile survival.

Text block paper is toned, signs of handling, small scattered spotting, internally still well preserved, tight, sound.
The scarce pamphlet displays a pleasing and unique age patina and is in nice antiquarian condition, any age flaws easy to overlook or forgive. 
Please review photos for more detail and our best attempt to convey how this antique item survives.
Covers measures c. 5 1/2" H x 2 3/4" W.
[B4930].