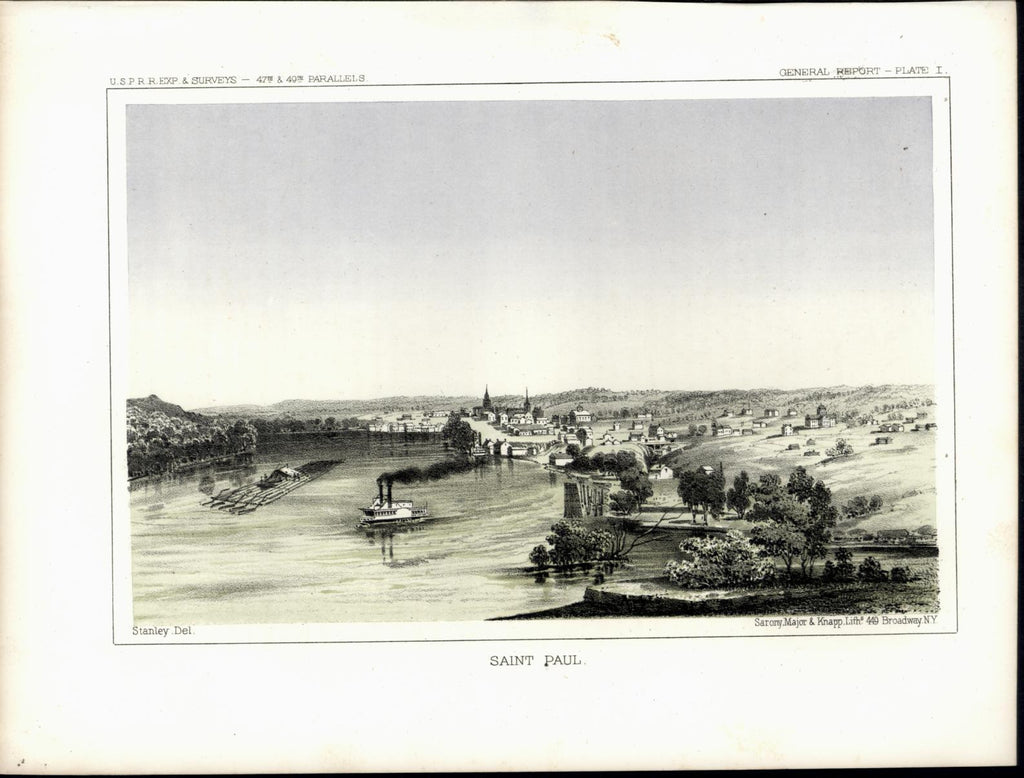 Saint Paul

(Mid-19th Century Railroad Route Survey of Western U.S. Between 47th & 49th parallels- Landscape View- Village View- Churches- Steamboat- Barge)
Lithographed by Sarony, Major & Knapp

Printed ca. 1855-60 for the U.S. Government Report
Fine original antique color lithographed view from the middle of the 19th century.

A very nice early view of this western city, captured near its infancy.
The old paper shows typical gentle minor signs of age, some light spotting or minor scattered foxing, but is clean overall and very well preserved. Possibly insignificant small defects to the wide blank margins which have no importance on aesthetics or value.
Please inspect enlargeable photo closely - Any noteworthy flaws to the printed surface area should be noticeable within zoomable picture provided .
An appealing early American antique view which could readily be collected on its own merits, displayed or given as a present.
[ note: We grade very conservatively and always seek to disclose any noteworthy flaws. We are doing our best to show & describe this item so you are happy when it arrives ].
Despite any small age flaws the sheet may display, the printed area remains fresh, clean and visually pleasing. The print is well preserved.
Overall a nice impression of an original and interesting antique printed image that any collector, dealer, institution or person of good taste would be happy to own or display.
Sheet measures c. 11 1/4" W x 8 1/2" H.
Printed area measures c. 9 1/4" W x 6 5/8" H.
[90696]