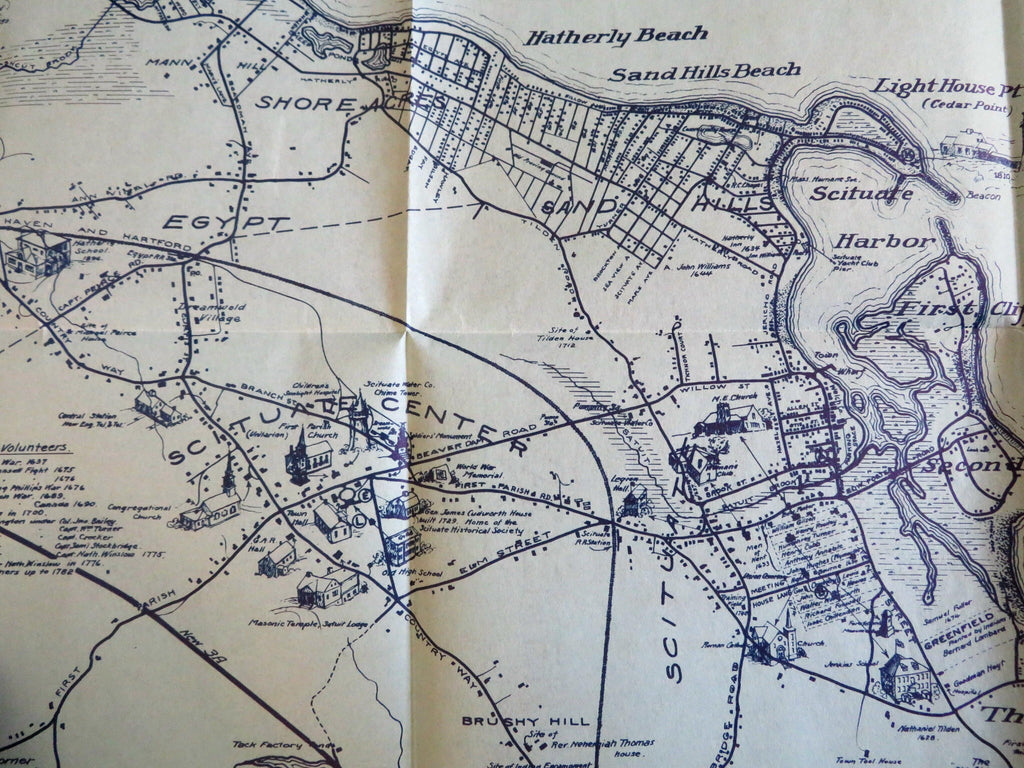 (Old Books, 20th Century Books, Americana, New England, Massachusetts, Scituate, 300th Anniversary, Illustrated Books, Local History).

Scituate: 1636-1936: An Illustrated Historical account of an Old New England Town, Wherein History and Literature Have Gone Hand in Hand and Where an Old Oaken Bucket Has Played a Famous Part, by Will Irwin.
Published 1936, Scituate, Massachusetts by Scituate Tercentenary Committee
46 pages plus wrapper covers. Text in English. Illustrated throughout. Large folding map at rear: "Tercentenary Edition Historical Map of the Town of Scituate, Plymouth County".
Publisher's pictorial paper wrappers. The large map is detached from the rear cover with some loss and long tear down one fold line.
Item is physically old and shows some signs of handling and time. Item is not new or in "new" condition.

Paper covers gently age worn, slight rubbing, remains overall clean and attractive as an object.

Text block paper is gently toned, small minor signs of handling, internally still well preserved, tight, sound.
Still attractive on the shelf. The fragile pamphlet displays a pleasing and unique age patina and is in nice antiquarian condition, any age flaws easy to overlook or forgive. 
Please review photos for more detail and our best attempt to convey how this early 20th century item survives.
Covers measures c. 9 3/4" H x 6 1/4" W.
[B5059].