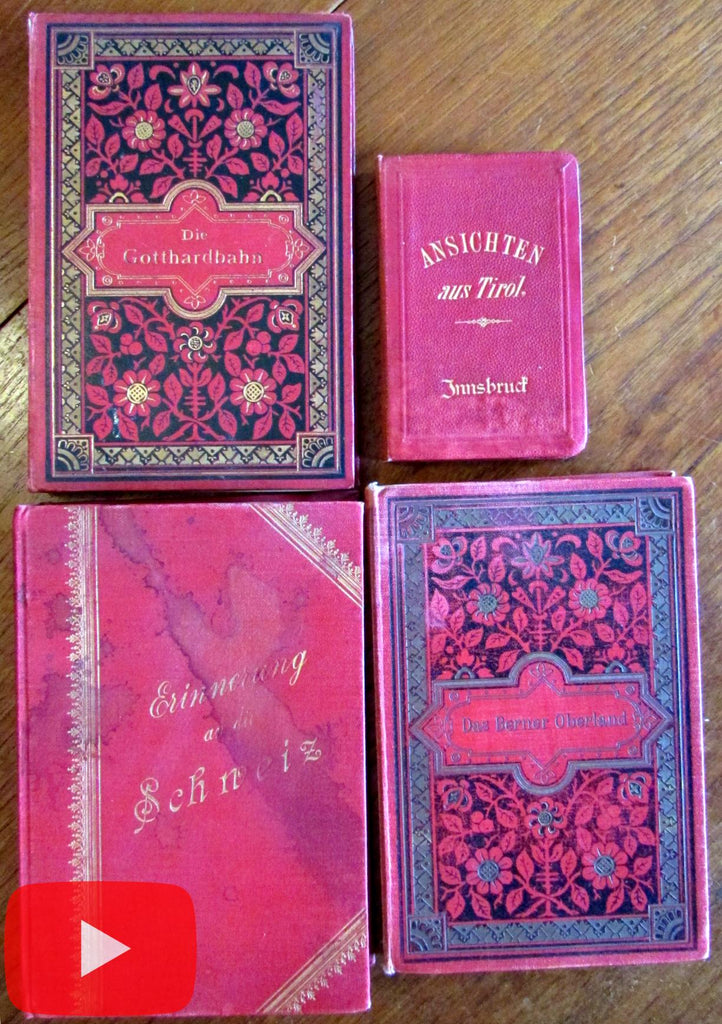 Switzerland- Tyrol mountains- Gotthardbahn- Das Berner Oberland- Schweiz.
Four 19th century tourist souvenir photographic album souvenirs. All issued in second half of 19th century, mostly c. 1870-90 era. All accordion fold-out style, images mounted to heavy card stock by publisher, all views identified.
Excellent lot, a total of 48 original 19th century mounted photographic views.
All appear complete, clean and relatively well preserved examples.
Short video captures condition much better than words. Please watch prior to purchase to ensure a clear understanding of the lot. Nicer lot than typical for the type.

Ansichten aus Tirol, Innsbruck.c. 1870. Scarce and charming near miniature pocket format. Ten (10) photos.

Die Gotthardbahn.Splendid floral decorative gilt Art Nouveau cover. Twelve (12) mounted photographs.

Das Berner Oberland. Art Nouveau binding, Twelve (12) mounted photographic views.

Erinnerung an die Schweiz. c.1890. Twenty (20) mounted photographic views.

Smallest book measures: 4 3/8" H X 2 7/8" W.
Largest book measures: 6 3/4" H X 4 5/8" W.
Group along the shelf measures: 2 3/4".
[V945]