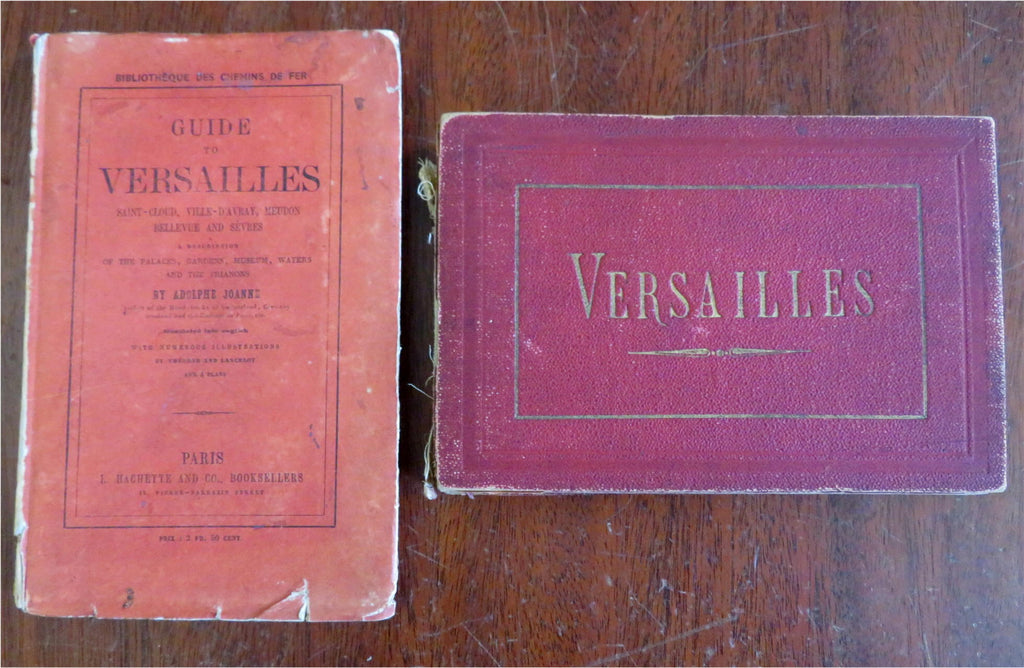 (Old Books, 19th Century Books, Travel, Tourism, France, Versailles, Louis XIV, Palace, French Palaces, Illustrated Books).

Guide to Versailles, Saint-Cloud, Ville D'Avray, Meudon Bellevue, and Sevres, by Adolphe Joanne.
Published c. 1865, Paris by L. Hachette and Co.
174 pages. Text in English. Illustrated throughout with wood engravings, plus a detailed double page engraved plan map. 

Versailles.
Published c. 1860, Paris.
12 mounted albumen photographic views on heavy card stock. Text in French. Covers detached
Publisher's cloth binding, gilt title lettering (souvenir album) paper wrappers (guide book).
Lot is physically old and shows some signs of handling and time. Lot is not new or in "new" condition. Well worn condition, approaching poor physical exterior condition on the photo souvenir.

Bindings well age worn, signs of handling, pair remains overall attractive.

Paper is gently toned, internally still well preserved, tight, sound.
Still attractive on the shelf. Lot displays a pleasing and unique age patina and is in nice antiquarian condition, any age flaws easy to overlook or forgive. 
Please review photos for more detail showing how this item survives. The asking price reflects the condition based on our examination and 35+ years full time exposure to antiquarian books and ephemera of all types. Flaws seen and described have been taken into account.
Books Measure c.4 3/4" H x 7" W.
[B4740].