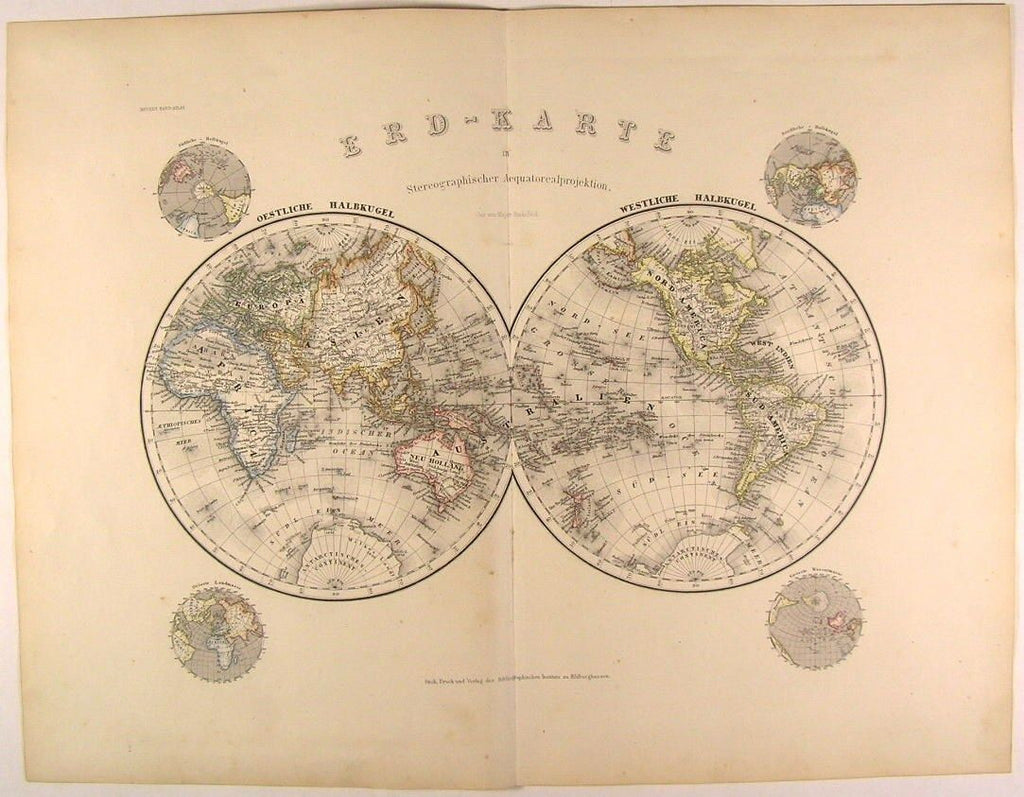 Erd-Karte

(World Map- Africa- Europe- Asia- New Holland- North & South America- Antarctica)
Published 1873, Hildburghausen, Germany by the Bibliographischen Institut

Original antique engraved German map with printed color. Place names in German as always. Fine looking small globes in the four corners, depicting two projections not typically seen around this date at bottom corners. Mention of Wilkes Expedition seen on Antarctic continent dated 1840, mythical hook to Lake Torrens in southern Australia no longer seen. Curious outline shape given to the Antarctica.
A detailed, scarce and interesting mid-19th century German map which could readily be collected on it's own merits, displayed or given as a present.
In VG antiquarian condition, mostly clean overall, light minor age dustiness or trivial small scattered age spotting as seen, original fold-line as issued, overall the map remains clean and attractive.
Please inspect photos closely- any noteworthy flaws to the printed surface area should be noticeable within pictures provided. These pictures form a central part of the item description and we encourage you to study them carefully. We will send the actual antique item shown.
[ note: We grade very conservatively. We are doing our best to show & describe this item so you are happy when it arrives ].
An interesting antique printed map that any collector, dealer, institution or person of taste would be happy to own or display.
Sheet measures c. 19" W x 14 1/2" H.
Engraved area measures c. 14" W x 10 5/8" H.
[R5249]