Boston Almanac 1843 Period Advertising City & Business Directory City Plan
Brian DiMambro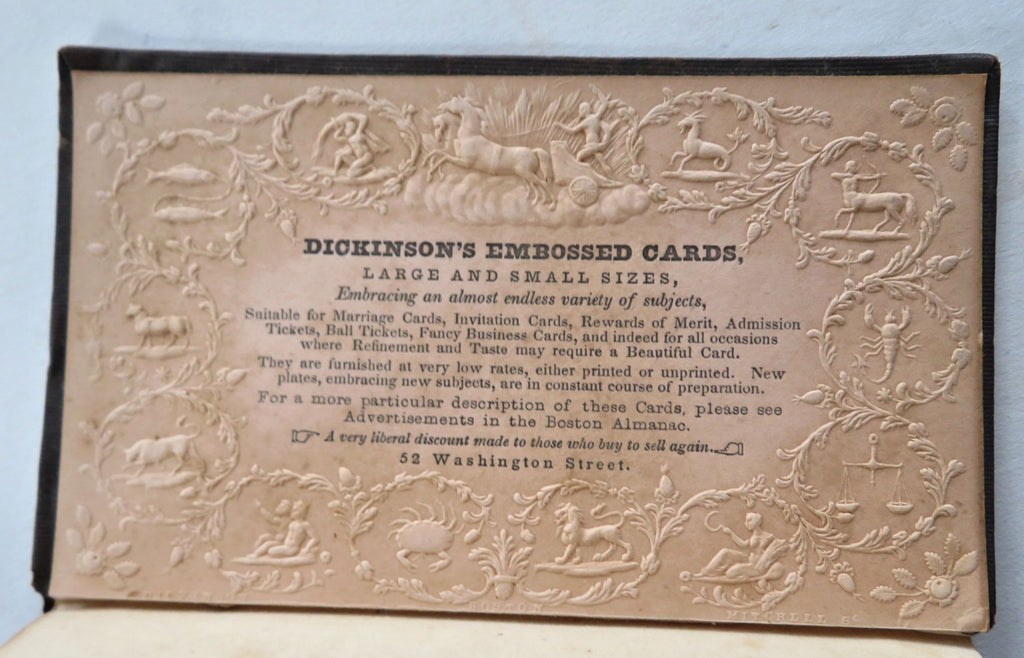 (Old Books, 19th Century Books, Americana, United States, New England, Massachusetts, Boston, Almanac, Period Advertising).

The Boston Almanac for the Year 1843
Published 1842, Boston by Thomas Groom
145 pages. Text in English. Engraved city map at front. Retains the two wonderful original trade cards affixed as issued by publisher to pastedowns. Rear card is a splendid embossed zodiac signs card!
Publisher's cloth binding, gilt title lettering, embossed cover decorations, all edges gilt. With sixty different wood engraved images of city churches.
Book is physically old and shows some signs of handling and time. Book is not new or in "new" condition.

Binding gently age worn, cloth lightly rubbed, exceptionally fresh example which appears to have been set on a shelf 150 years ago and only recently removed.

Paper is gently toned, still clean, tight, sound internally.
Still attractive on the shelf. The book displays a pleasing and unique age patina and is in overall nice antiquarian condition, any age flaws which may be present seem easy to overlook or forgive. 
Please review photos for more detail showing how this pocket book survives. The asking price reflects the condition based on our examination and 35+ years full time exposure to antiquarian books, maps and printed ephemera of all types and genres. Flaws seen and/ or described have been taken into account.
Book Measures c. 5 1/2" H x 3 1/4" W.
[B11162].