Franklin County Vermont Atlas 1871 F.W Beers complete county atlas township maps
Brian DiMambro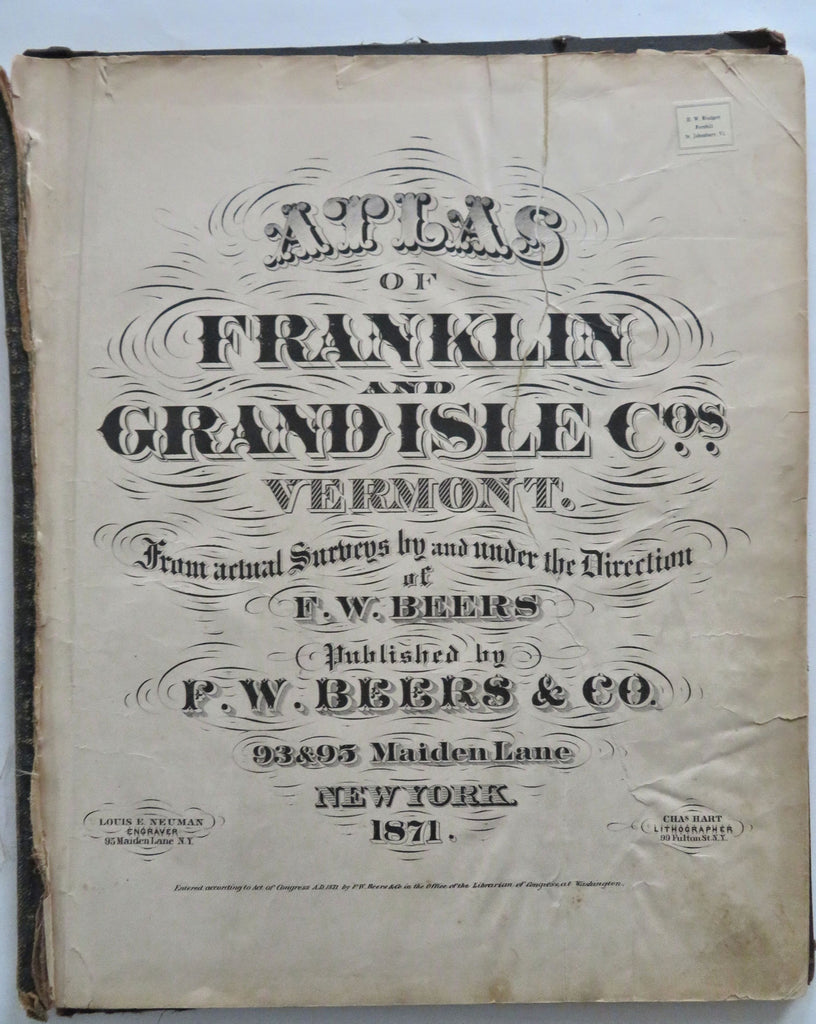 (Old Books, 19th Century Books, Americana, United States, New England, Vermont, Franklin County, Atlases).

Atlas of Franklin County, Vermont.
Published 1871, New York by F.W. Beers & Co. Lithographed by Charles Hart, NY, L. Neuman engraver.
Folio format, 29 maps, all with original hand color, complete. Text leaf in English. Maps have endless details, thousands of owners names
Attractive antiquarian 1/4 leather binding, cloth covers, gilt title lettering.
Book is physically old and shows some signs of handling and time. 

Binding well age worn but still appealing, front cover detached, title page taped on reverse to repair a long tear, contents remain tight.

Text block paper is gently age toned as typical, maps are overall clean but a few have closed edge tears, Montgomery map with clean long centerfold split, small spots or soiling, signs of thumbing and usage, some corner creases, etc. Virtually all maps entirely acceptable/ clean/ nice.
Still attractive on the shelf. Atlas displays a pleasing and unique age patina and is in rather nice antiquarian condition, any age flaws seem easy to overlook or forgive. 
Please review photos for more detailed attempt to present this scarce 19th century folio atlas as it survives. 
We often over-describe any flaws that many sellers would not even bother to mention since most people would overlook them as minor and unworthy of comment. Many people tell us the books they receive from us are nicer in person than they appears on the screen. We want you to be clear about what you are buying, so we take numerous photos and try to describe it openly and honestly.
Book Measures c. 16 3/4" H x 13 3/4" W.
[B10450].