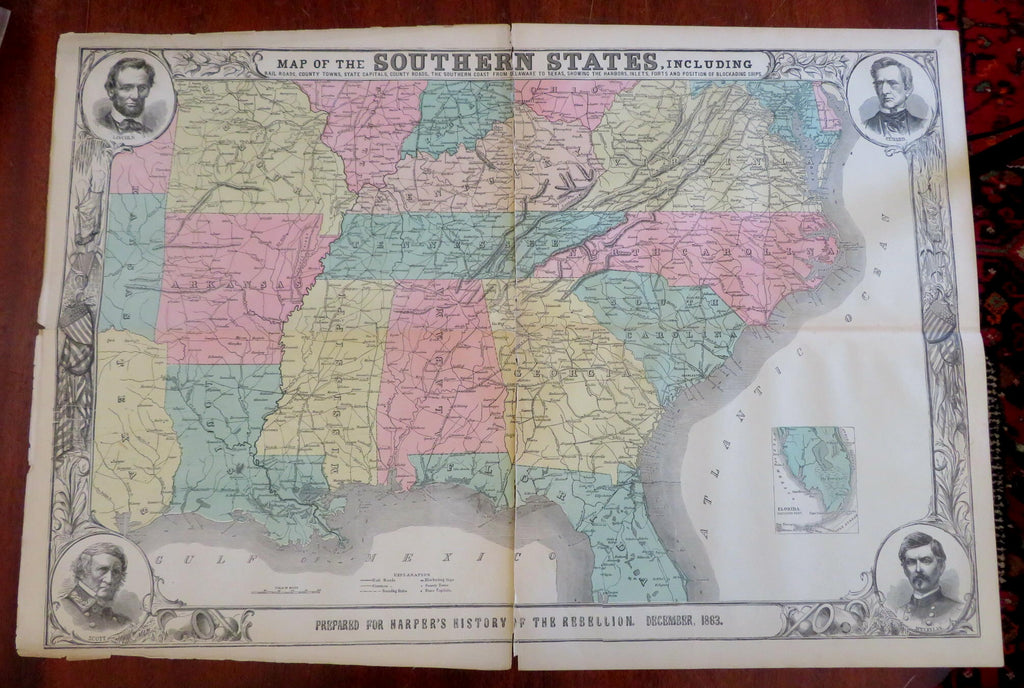 Map of the Southern States, Including Rail Roads, County Towns, State Capitals, County Roads, The Southern Coast from Delaware to Texas, Showing the Harbors Inlets, Forts, and Position of Blockading Ships.

(Old Maps, 19th Century Maps, Americana, Civil War, Confederacy, Southern States, Lincoln, Seward, McClellan, Scott).

Issued 1863-6, New York by Harper Brothers. There could be different issues of this map for different publications, all using the same stereotyped plate of a wood engraving.

Decorative large antique wood engraved map with original hand color. Portraits of Abraham Lincoln at top left, W. Scott bottom left, Seward top right and McClellan bottom right.
Survives as two separate sheets as found here. There are numerous (mostly short) edge tears neatly closed with archival tape, the center fold could be joined if desired, (there could be tiny minor loss along the center although it would be very minor indeed since the sides appear to join nicely).
Despite the separation due to paper acidity, still overall well preserved, a nice looking example with pleasing age patina. 

Original fold lines as issued.

Sheet Measures c. 22" H x 32 "W.

Engraved Area Measures c. 21" H x 31" W.

Cartographic Reference(s):
Tooley's Dictionary of Mapmakers, vol. 2.

[B7402].